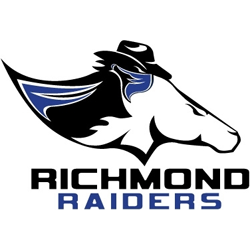 Former Washington Redskin linebacker, Richmond Spider standout, and Richmond native Shawn Barber will appear at the Richmond Raiders' game on June 21 at the Richmond Coliseum. Barber, along with GeNienne Samuels, will be on hand to greet fans, sign autographs, and take pictures. Samuels is a former Redskins Cheerleader and Captain, and is currently the in-arena host for the Washington Wizards and Washington Mystics.
"It's always exciting to have a connection to the NFL at our games," said Raiders owner Elizabeth Fraizer. "Our dance team coordinator is a former Redskin cheerleader, and just recently our former player Davon Morgan signed with the Eagles. With our season coming to an exciting conclusion and Redskins training camp starting soon, Richmond is crazy about football! We're glad to welcome Shawn to our game on June 21."
Barber spent four of his 10 seasons in the NFL with Washington. He amassed 10 sacks, 7 interceptions and 6 forced fumbles during his career with the Redskins, Eagles, Chiefs, and Texans. He appeared in six playoff games over three postseasons. In 2002, his teammates on the Eagles voted him as the team's Ed Block Courage Award recipient.
Barber played four years at the University of Richmond, and started for three. He was the 1997 Atlantic 10 Defensive Player of the Year. As a Spider, he racked up 20 sacks and five interceptions before being drafted in the fourth round by the Redskins. He only played football for two years at Richmond's Hermitage High School, but was named to the all-district and all-region teams. Samuels is also a Richmond native and attended high school and college with Barber before both landed with the Redskins.
The June 21 game against the Nashville Venom will be the Raiders' final home game of the regular season. Kickoff is at 7:00, and doors open at 5:30 for pregame entertainment and the meet and greet. To meet Shawn Barber and GeNienne Samuels, fans can visit the Richmond Tax Solutions booth on the concourse. Game tickets start as low as $7, and are available on the Raiders' website, www.RichmondRaidersProFootball.com, or by calling 1-855-GO-RAIDERS or 804-780-0430. Additionally, fans can contact the Richmond Coliseum box office or visit ticketmaster.com.