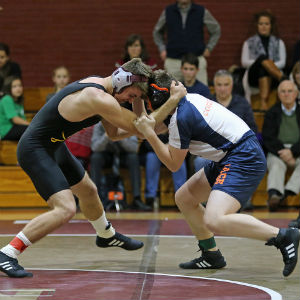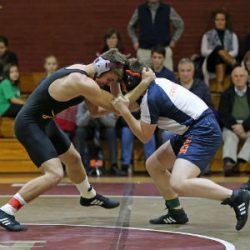 Fishburne Military School head wrestling coach Terry Waters has just announced the lineup of clinicians for his annual Summer Wrestling Camp hosted at FMS.
As usual, the Caissons wrestling guru and local coaching legend has arranged for a full slate of Olympic, National, and All-American champions to help him bring a love of the sport to the next generation of young athletes.
This year's featured clinicians include:
Quentin Wright: 2x National Champ, 4x All American for Penn State
Kerry McCoy:  2x Olympic Medalist, NCAA Champ, Head Coach, University of Maryland
Brian Brunk, Head Coach, Messiah College
Mike Helm NCAA Champ, Messiah College
Devin Carter  NCAA Runner Up, Virginia Tech
Joey Dance NCAA All American, Virginia Tech
Carl Adams, 2X NCAA Champ, Iowa State
Camp Counselors
Mark Hall: NCAA Champ, Penn State
Vincenzo Joseph, 2X NCAA Champ, Penn State
Under his leadership, the 2017 Fishburne Military School Caissons earned the Division II State Championship, sent nine wrestlers to the state championships, and three to the national championships. Waters is among the state's winningest wrestling coaches.  He has coached 12 state champs, 22 state runners-up, and has been named coach of the year seven times.
His 2002 and 2004 high school teams went undefeated. Prior to coming to Fishburne Military School he was an assistant coach at Washington and Lee University.
Waters has been operating his Summer Wrestling Camp for more than 30 years now and has guided countless young wrestlers to a greater appreciation of the sport and its techniques.
The 2018 camp will run from June 10th until June 14th for wrestlers in grades 5-12. The camp is limited to 80 participants.
Applications can be downloaded from the Quicklinks section at the bottom of www.Fishburne.org or may be requested by emailing Coach Waters at:[email protected]