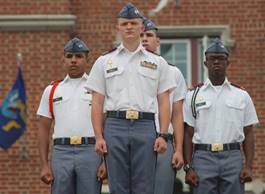 On Thursday, Cadet William C. Rowell of Chesapeake, Virginia was named as the Battalion Commander (BC) of Fishburne Military School for the 2014-2015 school year. Rowell, who will officially assume his duties during the military school's First Formation on Tuesday (August 26, 2014), is the son of Mr. and Mrs. Simon Currey.
The Fishburne Military School Corps of Cadets is designated as an Army JROTC Honor Unit with Distinction within the United States Army Cadet Command's 4th Brigade.
The BC is the highest ranking Cadet in the corps and has a variety of obligations and responsibilities such as supervising the Battalion's four company commanders, maintaining accountability of all cadets, and leading the corps in day-to-day activities. The Battalion Commander also serves as the primary liaison between the Corps of Cadets, JRTOC Department and School Administration.
Fishburne Military School's Superintendent, COL gary morrison (VA), FMS Class of 1984, noted: "A number of cadets competed and were considered for the position, but Mr. Rowell's academic strength, his performance in JROTC camps and classes, as well as his demonstrated leadership and management skills all brought him to the forefront in the selection process. We are thrilled with this decision and incredibly proud of Mr. Rowell. We offer our heartfelt congratulations to him and to his family."
When asked about his initial reaction to getting the position Rowell said, "It was a mix of relief and excitement. I was relieved because I really wanted the position and finally hearing that it was mine was a weight off my shoulders."
Rowell understands that this is the merely the beginning of a process and looks forward to the year ahead. "I understand that I have big shoes to fill from last year's BC but with the help of my fellow cadet leaders I will look to make this year one to remember." 
Founded in 1879, Fishburne Military School is a private all boys' boarding school for grades 7 through 12 that overlooks the town of Waynesboro, VA in the picturesque Shenandoah Valley. Distinguished as the oldest and smallest of Virginia's Military Schools, FMS offers individualized attention in a caring, family-oriented environment.  FMS strives to provide the Corps of Cadets with a sound academic foundation, a healthy mental and physical environment, as well as military training for better understanding of the obligations of honor, citizenship, and self-discipline. For more information visit: www.fishburne.org