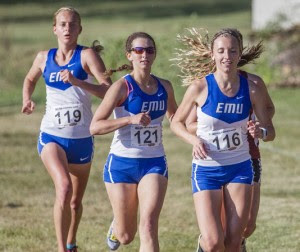 Hannah Chappell-Dick (Bluffton, Ohio/Bluffton) earned the fifth All-American honor of her career Saturday afternoon. In her final collegiate race, EMU's senior took fourth place in the 1500m at the NCAA National Track & Field Championships in Waverly, Iowa.
Chappell-Dick ran in the front four of the 12-woman field for the final three laps of the race and clocked a season-best time of 4:27.60. She narrowly missed breaking her own ODAC record of 4:27.25, set in 2015.
Head Track & Field Coach Britten Olinger said it was exciting to see Chappell-Dick execute the game plan for her final race.
"She and Coach Isaac Bryan had a great game plan to put her in a position to win with 300m left," explained Olinger. "The pace went out quicker than anyone expected and she ran a great race."
Coming off the starting gun, Chappell-Dick found herself stuck in the middle of a pack and then bumped near the rear of the group. But she made a strong move to the outside before the end of the first lap to get among the leaders.
Heading into the final lap, she ran just off the shoulder of then-leader Maya Weigel of Pomona-Pitzer. But along the back stretch, Swarthmore's Katie McMenamin surprised the field by skipping past both women and opening up a little space. Coming into the finish, Emily Gapinski of St. Thomas (MN), who was the only runner to finish ahead of Chappell-Dick in this spring's NCAA mile race, snuck past the EMU runner again to bump her to fourth.
Gapinski finished a mere 0.21 of second ahead of Chappell-Dick in 4:27.39. McMenamin handily broke the stadium record in 4:24.33, while Weigel took silver in 4:25.47.
Chappell-Dick now has All-America medals from her last five NCAA appearances: outdoor track (1500m), indoor track (mile) and cross country from this season, as well as outdoor track (1500m) and indoor track (mile) from her junior year.
She will also leave Eastern Mennonite as an Academic All-American and a six-time ODAC/Virginia Farm Bureau Mutual Insurance Scholar-Athlete.
"Hannah has left a major impression on EMU and our track program," said Olinger. "She has not had an easy four years while dealing with injuries and sickness, but she is a fighter and really showed that strength here at EMU. We are excited to see her continue her running career in Atlanta and to watch her impact the running community for years to come."