Sports
EMU women's soccer loses in OT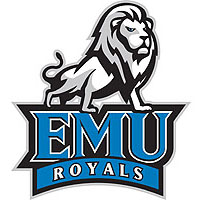 EMU had its perfect record in overtime games broken Tuesday night, dropping a 2-1 final at Ferrum College.  After going 2-0-1 in their three previous extra session contests, all off which went either full time or late into a second OT, EMU watched this one go quickly, as the Panthers scored in the first minute of extra time.
The first 45 minutes was played to a scoreless deadlock, but action picked up after halftime.  Ferrum turned on the heat shortly into the second half, scoring on a breakaway in the 48th minute.
After the Panthers' goal, the teams traded missed opportunities.  The Royals had a number of shots just miss equalizing, including attempts from Sam Winkler (Round Hill, Va./Woodgrove) and Sara Shenk Moreno (Harrisonburg, Va./Harrisonburg).
The game hit a watershed stretch with 20 minutes to play.  The Panthers appeared to have bumped their lead to 2-0 on a rebounded putback, but the attacker was whistled offsides.  Within one minute, Shenk Moreno grabbed a loose ball at midfield and took off.  She pulled three separate defenders to the left, weaving through each one before finding Morgan Hill(Martinsville, Va./Carlisle) in front of the goal.  Hill sent a laser beam into the back of the net to lock things up at 1-1.
Ferrum had the most chances over the final minutes of regulation, including a shot which glanced off the post, but the game slipped into overtime.
The OT only last 39 seconds, however, as the Panthers made a quick strike up the right side to grab the 2-1 decision.
Despite officially taking only five shots, Eastern Mennonite had a number of chances on the offensive end.  Defensively,Becca Borg (Gig Harbor, Wash./Peninsula) made seven saves in EMU's goal.
After the disappointing road loss in their final non-conference game of the year, the Royals take their 2-4-1 record back to the home turf this weekend when they host Randolph College.  The game is under the lights on Saturday with a 7:00pm start.