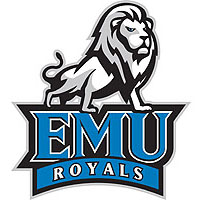 The EMU soccer men will be counting on a mix of experience and new faces to boost them back to the ODAC Tournament this fall. The Royals return a number of players from a balanced 2013 squad, but Coach Roger Mast expects a core of incoming athletes to push for spots on the field.
He hopes that competitive edge puts his team back into the postseason tourney for the 22nd time in his 24 years at the helm.
"The 2013 season was one that I would capture as being one of near misses: one game out of making the ODAC Tournament and numerous one goal losses," Mast explained. "That plays into our team this fall in that we will train to compete. Much of our training will be geared towards competition. We want to instill in our 2014 team a competitive will and work ethic that will turn those close matches into victories."
The Royals had five one-goal losses last year, including four in conference play. Two of those were in overtime. A win in any of those games would have given EMU the three points they needed to make a jump in the ODAC standings to make the tourney.
In Mast's mind, his team needs to play their "A" game for every conference outing.
"The competitive balance in the ODAC is hardly fair," he said. "We must come to play our best each time we have an ODAC opponent on our slate. There is not a team that we can take lightly. The preparation that it takes for each conference team is critical, but even more crucial is having the team intensity and work ethic at a high level for each of these matches."
Headlining the returners is a pair of former All-ODAC honorees, although one was a pleasant surprise return.
Midfielder Mark Mast (Harrisonburg, Va./Eastern Mennonite) is back for his senior season playing for his father. He had three goals and four assists last year, tying for the team lead with 10 points. Mast was an All-ODAC Third Team honoree as a sophomore. Defender Joao "Chris" Downs (Limon, Costa Rica/Colegio de Limon Diurno) is back to finish up his classwork under a fifth season. He scored three goals last year, but his suffocating presence in the middle of the backline earned him All-ODAC First Team and VaSID All-State First Team awards.
"Chris returns this season as a fifth year senior," explained Coach Mast, "as he was a medical redshirt his freshman season at Old Dominion before transferring to EMU. Chris is a very good organizer of our back four defenders. He also brings good leadership to the team."
The team also returns super-sub David Hooley (Bluffton, Oh./Bluffton), with his three goals and one assist as a junior, as well as senior midfielder Adam Moyer(Harleysville, Pa./Christopher Dock), who had two goals and an assist, and junior defender Jonathan Bush (Pottstown, Pa./Owen J. Roberts), who had a goal and an assist.
Mast says his returning core will give this year's team strength.
"We have good leadership in our upperclassmen," he explained. "The work ethic of our upperclassmen is high. We also have depth in the goalkeeper position and we have strong enough numbers on our roster to create a competitive atmosphere for training and earning playing time."
Senior keeper Andrew Yoder (Harrisonburg, Va./Eastern Mennonite) is a two-year starter with 188 career saves. He will give leadership to, but also be pushed by, some talented newcomers.
"Matt Overacker (Mount Crawford, Va./Turner Ashby) and Ryan Zerkel (Mount Jackson, Va./Stonewall Jackson) are incoming freshmen who will add depth and compete for playing time in the goalkeeper position," said Mast. "Andrew brings in some quality experience and our young keepers bring some athleticism and competitive desire."
While the team must replace All-ODAC forward Christian Rhine (13 goals in two season before transferring to Penn State), along with seven graduated seniors and a handful of other role players, the Royals got a boost from the local schools.
"Juan Luna (Mount Jackson, Va./Stonewall Jackson) is returning to the soccer field after a stint as a place kicker at James Madison University," Mast said, "and he has decided to transfer to EMU. Juan is a dynamic attacking player. Local freshmen players are Zach Sauder (Lyndhurst, Va./Stuarts Draft), Grayson Mast (Harrisonburg, Va./Eastern Mennonite), Brandon Fern (Fishersville, Va./Wilson Memorial) and Braden Herman (Waynesboro, Va./Fort Defiance). In all, we have 37 players reporting for preseason and competing for 28-32 roster spots."
Once again, Mast scheduled a number of quality non-conference sides to get his men ready for the rigors of the Old Dominion Athletic Conference.
"We have added Johns Hopkins, Gettysburg, Frostburg State, Southern Virginia and Ferrum to our non-conference venue," said EMU's coach. "We also have teams that we played in 2013 such as Lebanon Valley, Mary Washington and Marymount. We have chosen to play a difficult non-conference schedule to help to prepare our team for our ODAC opponents."
There are also some changes on the sidelines, as assistant Ted Erickson was hired as EMU's head women's soccer coach. Juan Flores, who played in 17 games in his final season of eligibility last fall, and Patrick Bain, an All-ODAC and All-Region player at Roanoke, join the staff this year.
"I look forward to working with Patrick and Juan," said Mast, "and I am excited to get the 2014 season underway. Our goal is to have the players working very hard on both sides of the ball and to be professional in all aspects of our soccer program."
The Royals open the year at the UMW Soccer Classic hosted by Mary Washington in Fredericksburg, Va., on Aug. 29 and 30.