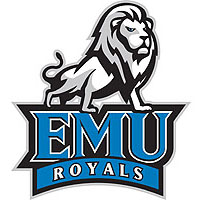 The EMU soccer men are getting used to extra time, as they played their second double overtime game in four days Saturday afternoon. They scored first but had to settle for the tie in a non-conference match against frostburg state in Harrisonburg.
The Royals came out on all cylinders and scored just 1:23 into the game. David Hooley (Bluffton, Ohio/Bluffton) touched a centering pass from the left side and found a cutting Mark Mast(Harrisonburg, Va./Eastern Mennonite) in front of the net. Mast made the quick shot and EMU took the quick 1-0 lead.
In the 13th minute, lightning caused a lengthy delay in the game. By the time play resumed, frostburg state had regrouped. The Bobcats got a few looks at the goal and finally found the equalizer in the 57th minute. The Royals turned the ball over on their defensive side and a quick shot from 25 yards out hit the left side of the net to tie the score.
frostburg state had a 6-1 edge in shots over the 20 minutes of overtime, but neither team could hit the game-winner.
The men settled for a tie as they completed more than 215 minutes of playing time this week. EMU beat Southern Virginia in 2-1 in double overtime on Wednesday.
The Bobcats ended with a 20-10 edge in shots, including 8-4 on goal. Mast finished with three shots, including two on goal.
Andrew Yoder (Harrisonburg, Va./Eastern Mennonite) played the first half and both overtimes in goal, making four saves. Matthew Overacker (Mount Crawford, Va./Turner Ashby) collected three saves in the second period.
Now 2-1-1, the Royals have one more non-conference game to prepare for their ODAC opener at Virginia Wesleyan on Saturday. EMU plays at Lebanon Valley Wednesday at 4:30pm.