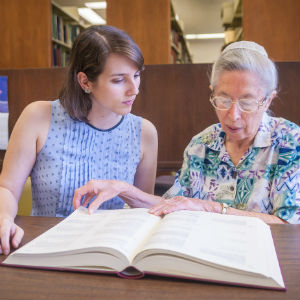 On July 1, Simone Horst became the special collections librarian of the Menno Simons Historical Library at Eastern Mennonite University. If her leadership tenure lasts as long as her two predecessors, she will serve for nearly three decades.
Retiring librarian Lois Bowman is "proudest" (her word) of the many researchers she has helped in her 45 years at the historical library. In addition, she has cataloged thousands of books, including many rare and foreign titles. With a masters degree from Harvard University and a second masters from Catholic University in rare book librarianship, Bowman is EMU's longest serving faculty and staff member, beginning in 1962.
"One of the jewels of EMU's crown is the Menno Simons Historical Library which Lois has helped to create," Beryl Brubaker, director of the Sadie Hartzler Library, said at a retirement reception for Bowman on June 11. "It's a jewel not only because of the materials Lois and others have collected but also because of the in-depth knowledge and interest of its staff. Ask her anything about Mennonites or related groups or about genealogy or the Shenandoah Valley, and Lois will shower you with information. She enjoys talking with visitors. She'll proudly show you the rare book collection too, a collection that is second to none on the East coast."
Looking ahead to her retirement, Bowman says of her library work, "I don't expect to miss any of it, because I plan to continue as a volunteer, doing the work I enjoy most. The rest I won't miss!"
Her successor Simone Horst is a 2012 graduate of EMU. This May she completed a master of library and information science from the University of South Carolina. She is co-director of EMU's digital conversion project and since 2008 has worked as an assistant in EMU's archives.
The university's 2017 centennial "has placed a well-deserved spotlight on our special collections," says Horst. "Hopefully it will allow us to share the many hidden gems we have with a broader audience." Sociologist Donald Kraybill, commissioned to write EMU's centennial story, is using the EMU archives as a primary source of university history.
Equally at home among rare old books or fresh digital scans, Horst is excited about the opportunities to extend the reach and utility of the historical library.
"The library staff has worked since about 2011 on a project to digitize items from EMU's special collections and make them available online," says Horst. "It's been a learning process for everyone, but it has been exciting to see the fruits of our labor in the recent months! We have teamed up with information systems and other departments on campus to ensure that our digitized materials are maintained for the long-term and made easily available now for those who want to use them. The digitization of library and archival materials is something I am very passionate about. Digital collections offer many new opportunities for libraries and library users."
A link to EMU's digital collection (publications such as early Weather Vanes, the Bulletin and student handbooks) is at Sadie Hartzler Library's main page or here at the online depository's cloud service.
Article by: Paul Souder
Photo by: Michael Sheeler