Dixie Gas & Oil Corporation is supporting the Augusta County Fair through BP's Fueling Communities Program with a grant donation of $1,000.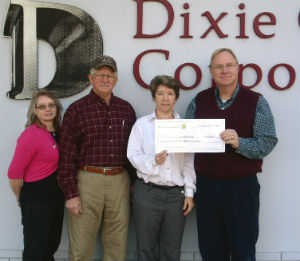 The grant will help the Augusta County Fair purchase a livestock scale to be used for fair events and for agricultural groups like the Augusta County 4-H & ffa Market Animal Show.  The Augusta County Fair continues to help bring the community together to show off the habits, talents, and traditions.
Ellen Shaver Shank, Marketing Director of the Augusta County Fair expressed her appreciation to the bp Fueling Communities Program. "Thanks to the grant, the Augusta County Fair will now have a new set of scales to help with the weigh-in for the animals of the 4-H and ffa members at the fair.  This is just another great support that the community continues to give to make the fair a success for the residents of the area.  Fair dates are August 5 – 9, 2014."
About BP's Fueling Communities Program
The bp Fueling Communities Program provides grants to local organizations that are nominated by bp Branded business owners to support the communities in which they do business.  The grants are given to organizations that focus on health, education, youth, food and housing.
About Dixie Gas & Oil Corporation
Dixie Gas & Oil Corporation has been serving the area's propane and petroleum needs since 1946. Today, Dixie provides propane, heating oil, gasoline, diesel fuel, and lubricants to homes, farms, businesses, and industries throughout the Shenandoah Valley, Alleghany Highlands, portions of West Virginia, and beyond.