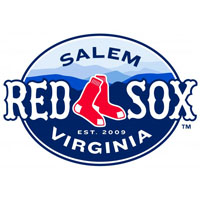 The Winston-Salem Dash pounded out 10 hits and held the Salem Red Sox hitless through five innings on their way to a 7-3 victory in Carolina League action on Saturday night at LewisGale Field.
The Dash got started early as the first three batters recorded base hits in the top of the first. Adam Engel began the game with a single, Eddy Alvarez singled behind him, and Jake Peter smacked a single up the middle to score Engel for the first run of the game. Two batters later, Keon Barnum lofted a fly ball to center, allowing Alvarez to tag and score from third for a 2-0 Dash advantage.
Winston's advantage grew in the third, as Alvarez again reached, this time on a walk. With one out and Alvarez on third, Trey Michalczewski smacked a single to right, scoring Alvarez. After Barnum singled Michalczewski to third, Nick Basto sent a fly ball to center and Michalczewski tagged and scored to make the score 4-0 Dash.
Alvarez began the fifth by reaching on an error and stealing second base. Peter then drove a double to the left-center field gap and Alvarez sprinted around third and scored, pushing the score to 5-0.
Trey Ball (8-11) took the loss by allowing five runs, four earned, on seven hits with one walk. Carson Fulmer started the game for Winston-Salem and pitched three perfect innings with two strikeouts,  but took a no decision as he did not throw at least five frames.
In the sixth, Omar Narvaez reached on an error and Cleuluis Rondon followed with a single. Narvaez later scored on a wild pitch before Engel smacked a double to drive home Rondon, extending the lead to 7-0.
The Sox broke up the no-hit bid in the sixth with a double from Jordan Betts. Deiner Lopez doubled down the third base line in the next at-bat, scoring Betts to break up the shutout. Wendell Rijo then cranked a double of his own, scoring Lopez from second. Kevin Heller later knocked in Rijo with a groundout, making the score 7-3.
Jake Cose (7-3) earned the win despite allowing three runs on four hits and two walks in 2.1 innings pitched. Betts was 3-for-4 with a run scored, Rijo finished 1-for-3 with an RBI and a run and Deiner Lopez went 1-for-4 with an RBI and a run scored.
The loss dropped the Red Sox to 55-64 and 17-32 in the second half while the Dash improved to 61-58 and 31-18. Salem and Winston-Salem conclude the series on Sunday at 4:05 p.m. with Teddy Stankiewicz (3-10, 3.72) facing Brian Clark (7-4, 2.71). Fans unable to attend can listen to the game on 1240 AM ESPN Roanoke, online at salemsox.com or via the TuneIn Radio app.