Dale Earnhardt Jr.'s many childhood visits to Bristol Motor Speedway as a kid roaming the pits with his pals have been well-documented. The first time he climbed behind the wheel of a race car and got to tackle the high banks of the Last Great Colosseum in a major NASCAR race may not be quite as well known to his many legion of fans.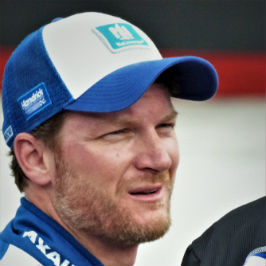 In 1997, Earnhardt Jr. made his first career start at Bristol Motor Speedway driving a black No. 7 Chevrolet Monte Carlo owned by Bristol businessman Ed Whitaker with sponsorship from Church Brothers.
Whitaker's famed No. 7 had been driven by many of NASCAR's greats over the years including Tim Richmond, Harry Gant, Morgan Shepherd, Davey Allison and Alan Kulwicki, to note a few of the long list of all-star names. Dale Earnhardt Sr. also took a spin in one of Whitaker's machines in a Bristol Grand National race in 1982, the Intimidator's only start for the Tri-Cities area team owner.
From 1996-1997, Earnhardt Jr. had been proving himself at many of the toughest short tracks around the mid-Atlantic region in Late Model Stock Car competition. He had competed in a few Busch Series (now known as the XFINITY Series) events, but until that weekend, he had only dreamed of racing at The World's Fastest Half-Mile.
Whitaker, with his keen eye for driving talent, gladly provided that opportunity.
"That was a big deal for me," Earnhardt Jr. has said. "Mr. Whitaker was a real good man, and he made sure he did things right. It was an honor for me to drive his race car."
Earnhardt Jr. made the most of his opportunity. He qualified second for the Food City 250, which meant a start on the front row alongside pole-sitter Randy LaJoie. Earnhardt Jr. powered to the front of the field early in the race and the rookie actually led 22 laps of the event.
He eventually fell back and finished 22nd, but brought the car home in one piece, completing all but a couple laps of the event. A few of the other notable drivers who finished behind him that night included Terry Labonte, Dale Jarrett, Michael Waltrip and Elliott Sadler.
Whitaker, who passed away at age 76 in 2014, fielded race cars for 247 events in the XFINITY Series. In that span, he collected 28 victories, including three at Bristol. Shepherd claimed two Bristol victories for Whitaker (1983 and 1986) and Gant claimed one, in 1992.
"Everybody wanted to drive one of Ed's cars," highly-regarded crew chief Chris Carrier, also a Tri-Cities native, has said. "His reputation was, if I go drive one of Ed's cars, I'm going to run good."
Of course Earnhardt Jr. used that experience as the momentum to compete in 34 Cup and 11 Xfinity starts at Bristol in his stellar career. He claimed Bristol victories in both the Xfinity Series and Cup Series, famously sweeping both events at the 2004 Night Race when he coined the term, "It's Bristol, baby!" in Victory Lane.
After announcing earlier this season that 2017 would be his last full-time driving season, Earnhardt Jr. is scheduled to make his 12th XFINITY start in the Food City 300 and his 35th, and final, Cup start during the Bass Pro Shops NRA Night Race, Aug. 18-19. He will drive his No. 88 JR Motorsports Chevy in Friday night's XFINITY Series race and his Axalta No. 88 in the Monster Energy Cup Series event on Saturday night.
Earnhardt Jr. said recently that he is looking forward to bringing things full circle at Bristol Motor Speedway in a few weeks.
"My last run at Bristol, I think we've got a special paint scheme for that I'm kinda excited about," Earnhardt Jr. said. "I have a lot of fond memories there. I'm glad I've got a trophy from that race track and that will be one of the tracks that I miss running at more than some others for sure. I love short track racing. It's probably what I love the best about this sport and it's one of the few that we get to run on. It's such a unique race track, shape, banking and all that. There is nothing that compares to it. I will always feel special about it."
Earnhardt Jr. will be joined on the track by many more of NASCAR's elite drivers, including defending Bass Pro Shops NRA Night Race winner Kevin Harvick, seven-time Monster Energy Cup champ Jimmie Johnson, young guns Kyle Larson, Ryan Blaney, Austin Dillon and Chase Elliott, along with veteran drivers Clint Bowyer, Kyle Busch and Martin Truex Jr.
In addition to the great racing, there are so many cool options to make a complete weekend of family fun, including great video entertainment provided by Colossus, the world's largest center-hung video screen, lots of party zones like the Bristol Lawn Party, premium VIP experiences like the Chairman's Experience, tailgating, on-site camping, concerts, great food and beverages in the concession stands throughout the property, and so much more.
And for families who want to bring the entire clan, Bristol Motor Speedway officials are making it easier than ever for kids to have an awesome experience. Kids' tickets (12 and under) are free and adult tickets are $30 for the Wednesday, Aug. 16 UNOH 200 Camping World Truck Series race and the Bush's Beans 150 Whelen Modified Series race. Friday night's (Aug. 18) Pinty's Qualifying and Food City 300 XFINITY Series event features adult tickets starting at $35 and free kids tickets. On Saturday night (Aug. 19), kids' tickets are only $10 for the Bass Pro Shops NRA Night Race Monster Energy NASCAR Cup Series race, while adult tickets start at $69. For all races, each child must have a physical ticket in hand to enter the gates. The Bristol Motor Speedway ticket office and www.BristolTix.com are the only two authorized locations that can produce the free kids' tickets.
To purchase tickets to the Bass Pro Shops/NRA Night Race, please call 423-BRISTOL or buy them online at www.BRISTOLTIX.com.
Provided by Bristol Motor Speedway