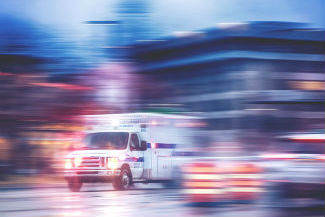 The driver of a dump truck is dead after a single-vehicle crash on Louisa Road and Tally Ho Lane in Albemarle County this morning.
A dump truck that had been hauling asphalt overturned at approximately 8:30 a.m.
The driver of the truck, 41-year-old John Henry Alfred Moorman of Culpeper, died at the scene of the crash.
Units from Albemarle County Police Department along with career and volunteer units from Albemarle County Fire Rescue responded to the accident scene.
The Albemarle County Fire Rescue fire marshal is coordinating with the Virginia Department of Environmental Quality to ensure the mitigation of any potential environmental impacts of the asphalt that spilled into a tributary of Mechunk Creek.
The trucking company owner, the property owner where the crash took place, and a hazardous materials clean up contractor are working to remove the asphalt and return the stream bed and surrounding buffer to its natural state, according to a news release from the County of Albemarle Police and Fire Rescue Departments.
The mitigation is currently in progress and is expected to take at least a week.
The cause of the crash remains under investigation by the Albemarle County Police Department's fatal crash reconstruction team.
This is the 10th fatal crash investigated by ACPD in 2022. This count does not include fatal crashes that occur in Albemarle County that are investigated by Virginia State Police.