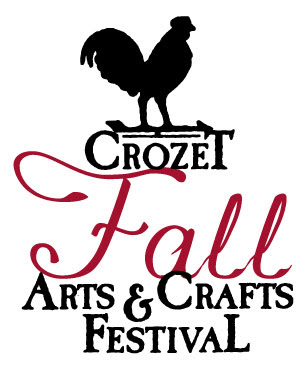 The Crozet Fall Arts and Crafts Festival, along with retailers and art institutions in Albemarle County, across Virginia, and nationwide will celebrate American Craft Week this coming October. This is the first year the Crozet Arts and Crafts Festival – taking place the last weekend of the celebration on October 10-11 – has participated in this event.
American Craft Week began as a small, grassroots effort to enhance the knowledge and appreciation of handmade craft. Now celebrating its fifth anniversary, American Craft Week is a well-established, national event celebrating the tradition of American craft in artists' studios, galleries, museums, schools, and festivals. This year's official celebration will be held Oct. 3 – 12, and for the first time all 50 states are participating, including the District of Columbia, and three foreign countries (US Army bases in Germany, Japan and South Korea).
"American Craft Week has caught the imagination of so many supporters," said Diane Sulg, founder and co-chair of the event. "With the growing appreciation of both artisan products and American-made goods, craft is highly regarded for its strong design, quality materials, expert workmanship and enduring value." Since its inception in 2010, American Craft Week has grown from 240 to more than 1000 participating events, all inviting the general public to enjoy a wide variety of educational, commercial, charitable and festive ways to celebrate craft.
The 35th Annual Crozet Fall Arts and Crafts Festival will host over 100 juried fine art and craft Exhibitors at Claudius Crozet Park on October 10-11. Also featuring live music from local performers, great food, Virginia wine and draft beer, and activities for the children, the Festival is a wonderful way to experience an autumn weekend in the foothills of the Blue Ridge Mountains (rain or shine!). Festival details atwww.crozetfestival.com.
For a complete list of American Craft Week public events taking place locally and nationwide, go to www.Americancraftweek.com.