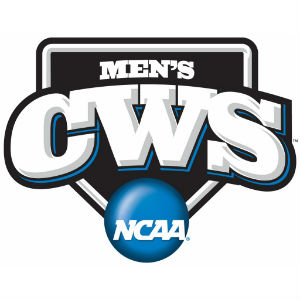 The UVA baseball team plays Vanderbilt for a national championship in the best-of-three College World Series Finals this week at TD Ameritrade Park Omaha. The series consists of games at 8 p.m. ET/7 p.m. CT on Monday and Tuesday. If necessary, the third game would be played at 8 p.m. ET Wednesday.
Broadcast Information
ESPN will air all three games, while the broadcasts also will be streamed online via the WatchESPN app. wina 1070-AM and WINA.com will carry the live radio broadcast, as will several stations along the Virginia Sports Radio Network. Check your local listings for availability.
SiriusXM Channel 91 will air the national Westwood One broadcast on satellite radio.
Live statistics (GameTracker) also will be located on VirginiaSports.com. The live stats also can be accessed through the Virginia Sports app, which is available through iTunes.
Virginia in the NCAA Baseball Championship
Making its first appearance in the CWS Finals, Virginia is vying for its first national championship in baseball. Virginia has competed in 14 NCAA tournaments, including the last 11. UVa is 41-30 in the tournament, including 29-14 over the last six seasons.
Under Brian O'Connor (since 2004), UVa is 35-24 in the NCAA tourney. UVa is 6-4 in CWS games (1-2 in 2009, 2-2 in 2011, 3-0 in 2014).
Road to the CWS Finals
Virginia owns an 8-1 record in the NCAA tournament, with wins in its last five games. UVa's road to the CWS Finals:
May 30 – def. Bucknell, 10-1
May 31 – def. Arkansas, 3-0
June 1 – def. Arkansas, 9-2
June 7 – lost to Maryland, 5-4
June 8 – def. Maryland, 7-3
June 9 – def. Maryland, 11-2
June 15 – def. Ole Miss, 2-1
June 17 – def. TCU, 3-2 (15 innings)
June 20-21 – def. Ole Miss, 4-1
Virginia-Vanderbilt Series
Virginia and Vanderbilt have met just twice previously, with the Commodores taking both matchups. Vandy won the first meeting, 5-4, on May 6, 1892, in Charlottesville. In the programs' only game during the modern era, the Commodores scored a 7-3 win at UVa on June 6, 2004, in the NCAA Charlottesville Regional.
UVa's Pitching Superb in CWS
Virginia has allowed 16 hits and two earned runs in 33 innings of the College World Series (CWS-best 0.55 team ERA). UVa's bullpen has not allowed a run in 14 innings in the CWS and has surrendered three runs in 30 innings in the NCAA tournament. UVa has lowered its team ERA to 2.21 (second nationally to TCU's 2.16) and now ranks first in the nation in WHIP (1.02) and hits allowed per nine innings (6.39).
Cavaliers Post Second-Most Wins in Program History
With the win Saturday against Ole Miss, Virginia has recorded the second-most victories in a season in program history with 52. The program record is 56, set in 2011. UVa has won 50 games or more four times – all in the last five seasons.
Cavaliers Familiar with Tight Games
UVa is 16-7 in one-run games and is tied with Florida, Miami and San Diego State for the most one-run wins in the nation. This marks the most one-run wins in the Brian O'Connor coaching era. The 2004 team posted 14 one-run victories. The Cavaliers are 27-9 in games decided by three runs or fewer, including 3-0 in the CWS.
UVa Aims for 21st NCAA Title
The University of Virginia has claimed 20 NCAA Championships in its athletics history, with its most recent coming in 2013 when the men's tennis program claimed its first crown, downing UCLA in the title match. The others: Men's Soccer (6 – 1989, '91, '92, '93, '94, 2009), Men's Lacrosse (5 – 1972, '99, 2003, '06, '11), Women's Lacrosse (3 – 1991, '93, 2004), Women's Cross Country (2 – 1981, '82), Women's Rowing (2 – 2010, '12), Boxing (1 – 1938).