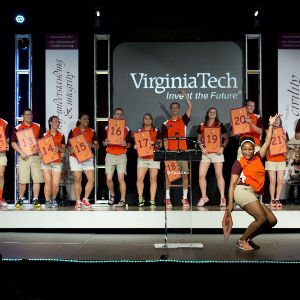 A $100,000 grant from the Coca-Cola Foundation will provide six scholarships to first-year students who are the first in their immediate families to attend college. Virginia Tech joins more than 500 other U.S. colleges and universities as part of the Coca-Cola Foundation's First Generation Scholars Program, which has helped more than 3,200 students to date nationwide.
Lori Billingsley, vice president of community relations for the Coca-Cola Company, said education is an extremely important and strong pillar of Coca-Cola's sustainability efforts.
"We see it as a key contributor to socio-economic development, and we encourage and support educational programs for students of all ages, nationalities and ethnicities, and those in need of financial assistance," Billingsley said.
As the global philanthropic arm of the Coca-Cola Company, the Coca-Cola Foundation awards grants to support sustainable community initiatives around the world focused on women, water, and well-being. Since its inception in 1984, the foundation has awarded more than $750 million in grants.
Karen Eley Sanders, Virginia Tech's associate vice provost for undergraduate academic affairs and director of student success, said that, for some students, the grant will be the difference between coming to the university or not.
"It means that some of our most academically talented students in Virginia, who would like to enroll in a competitive research institution like Virginia Tech, can do so without regard for whether their families have capacity to pay," Sanders said.
She added that it's a priority for the university to reach out to the first-generation students and support them through engagement and advising. Of the approximately 6,400 freshman to enter Virginia Tech in fall 2015, 944 were first in their families to attend college.
Wanda Hankins Dean, Virginia Tech's vice provost for enrollment and degree management, said that, as a land-grant university, Virginia Tech strives to identify opportunities to expand access for qualified students.
"We realize our mission for expansion of access through our partnerships with programs such as the Coca-Cola First Generation Scholars Program, which aides us in removing barriers to a high-quality education for hardworking first-generation college students," she said.