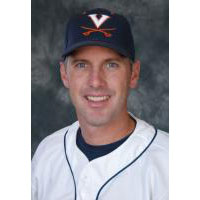 The UVa. baseball team is 25-4 and at the top of the national polls. Sounds good, but it's clear that the 'Hoos haven't played anything close to their best baseball.
That's the scary thing about Virginia baseball right now: that things can actually get better, maybe a lot better.
"As frustrated as we might be with our offense not clicking on all cylinders, we're 25-4, so it's going to be really exciting when it all does come together," said Virginia coach Brian O'Connor after his team had defeated George Washington 10-0 on Wednesday.
The win was the eighth in a row for the Cavs, who are first in the ACC coastal division with a 10-2 record heading into a weekend series at Pitt (15-13, 7-5 ACC).
Pitching and defense have carried UVa. to this point. The 2.11 team ERA leads the ACC and is eight nationally, and the .986 fielding percentage is first in the ACC and second nationally.
The offense has been a step or two off from last year's group, which averaged 7.9 runs per game with a .312/.409/.463 line as a team. The 2014 Cavs are averaging 6.2 runs per game with a .287/.391/.391 line.
Everybody is down a peg this year, even Mike Papi, whose otherwise gawdy five homers and 26 RBI and .354/.515/.563 line is off-pace from his seven homer, 57 RBI and .381/.517/.619 season in 2013. Brandon Cogswell has been heating up of late, including getting four hits in the GW win, but he's still at .324/.424/.351 in 2014 after a .346/.464/.451 season in 2013.
Also down in 2014: Joe McCarthy (.294/.417.461 this year, .336/.469/.453 in 2013), Kenny Towns (.244/.368/.333 in 2014, .290/.373/.516 in 2013) and Brandon Downes (.230/.350./.400 in 2014, .316/.393/.569 in 2013).
A reason for this could be the MIA Derek Fisher, who has played only 14 games after breaking a bone in his right wrist on March 12. It was said when Fisher went down that he'd be out 4-6 weeks, which could keep him on the sidelines through the end of April. Fisher was hitting .333/.393/.451 in 2014.
The addition of Fisher into the lineup at the end of the month could provide an extra spark to an offense that seems to be heating up at maybe just the right time.
"I think it will come," O'Connor said. "You look at guys individually. Brandon Cogswell is really coming on. He had a slow start, and he's starting to consistently square the ball up and get hits. Joe McCarthy is coming along, and he's really starting to put together what he's capable of doing.
"There's a couple of guys in the lineup that are not there yet. Brandon Downes is nowhere near where he's capable of, and he knows that. The way I look at it, it can be a real positive. If a guy like him, and a couple of other guys, can really get it going, this has a chance to be a lot of fun."
And hey, we do need to remember the thing about Virginia being 25-4 and #1 in the country, you know, in spite of all this.
"We've been doing a great job with our pitching and defense. That's going to need to be there all the way through. Once a couple of those other guys get going, it should be exciting," O'Connor said.