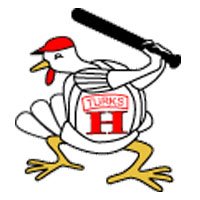 The Charles Town Cannons scored seven runs in the top of the tenth inning to beat the Harrisonburg Turks 10-3 on Tuesday night.
James Ziemba came on in relief in the tenth inning for Harrisonburg, gave up three runs on wild pitches and then loaded the bases.  Center fielder Thomas Spitz relieved him for the final third of the tenth and gave up a grand slam to Andrew Yacyk on the first pitch he has thrown this season.  Yacyk finished the game 3-for-5 with 5 RBIs.
The Turks had a 3-1 headed into the ninth inning, but reliever Tanner Shelton gave up two runs.  Justin Harris reached on an error allowing Austin Bream to score and Stephen Kerr hit into a fielder's choice allowing Bryant Munoz to score when he beat Matt Rose's throw from third base.
First baseman Daniel Nichols hit his second home run of the season in the first inning over the right field fence to start the scoring for Harrisonburg.  Jesse Baker scored the other two runs for the Turks on sacrifice flies by Christopher Barr in the fourth inning and Steven McLean in the sixth inning.
Charles Town beat Harrisonburg in all four meetings between the teams this season; they improve to 23-16.  The Turks fall to 24-13, but remain in first place in the Valley Baseball League due to Front Royal's loss to Waynesboro.
The Turks travel to Aldie to play the Senators on Wednesday at 7:30 p.m.