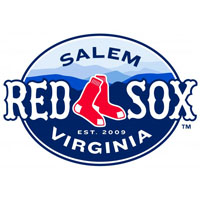 The Salem
Red Sox
rallied for three runs in the bottom of the ninth, but Carolina had already scored three runs in the top of the ninth, ensuring the visitors would survive with a 7-5 victory on Mother's Day at LewisGale Field. Mudcats starter Ryan Merritt improved to 5-0 with the win, becoming the first
Carolina Leaguer
to reach the five-win plateau.
Tim Roberson
led the
Red Sox
with three hits, but the Sox dropped their second straight and finished their week-long homestand with a 4-3 mark.
The Mudcats struck early, with Jerrud Sabourin lacing a bases loaded double into the left-center field gap in the top of the first inning. Two runs scored against Salem starter Pat Light, who would be stung again in the second when the Sox made a pair of errors. The two miscues led to two more unearned runs, with Carolina taking a 4-0 lead after two innings.
The Sox chipped away at Merritt, scratching him for eight hits in six and two-thirds innings, but mustering only one run in the fourth and another in the
fifth
. The Mudcats southpaw struck out four and walked no one, departing with two outs in the seventh with his team ahead 4-2.
In the top of the ninth, the Mudcats created three runs against Justin Haley, with Torsten Boss hammering a clutch two-run double that served to break it open. Up 7-2, Carolina replaced Josh Martin with Elvis Araujo heading to the bottom of the ninth.
The
Red Sox
immediately loaded the bases with two singles and a walk to begin the ninth inning, and
Ryan Dent
cracked an
RBI
single to make it 7-3 and bring the tying run to the plate. A fielder's choice off the bat of
Jonathan Roof
created the first out, but also made the score 7-4. Roberson singled home another run to bring the Sox within two and put the winning run at the plate. But Reed Gragnani, the leading hitter in the league heading into the game, grounded into a 6-3 game-ending double play. Uncharacteristically, Gragnani finished 0-for-5 and was the only Sox starter to go without a hit.
Anthony Gallas
led Carolina with three hits, while Erik Gonzalez and Sabourin each delivered two hits apiece. While Merritt improved to 5-0, Light dropped to 0-1, surrendering four runs (two earned) on six hits over five innings.
The
Salem Sox
reach the quarter pole of the season with a 19-16 mark, three games behind first-place
Myrtle Beach
in the Carolina League Southern Division. The Sox hit the road 
on Monday
 to kick off a week-long trip, beginning with three games against Wilmington. William Cuevas opposes Miguel Almonte 
on Monday
 night, 
6:35
 first pitch at
Frawley Stadium
.