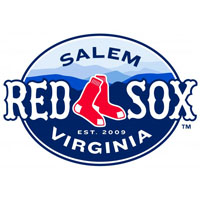 Erik Gonzalez
led Carolina with five hits in two Mudcat victories, while the Salem
Red Sox
mustered five total hits as a team in a pair of setbacks. In the opener,
Ryan Merritt
and
Elvis Araujo
combined for a two-hit shutout in Carolina's 4-0 triumph. The nightcap was even closer, with an unearned run becoming the difference in the 2-1 Mudcats win. Salem has now dropped six straight and seven of its last eight after starting the season 5-0.
In game one,
Jeremy Lucas
commenced the scoring by driving in Gonzalez with a two-out single in the first. From there, Carolina added two runs in the
fifth
and one more in the sixth, all of which were unnecessary since the Sox could not get the bats to click.
Carson Blair
and
Kevin Heller
each delivered a double, but no other Salem hitters chipped in with a knock in the opener.
In game two, Heller triggered Salem's only offense with a leadoff triple in the top of the third. Two batters later, Dreily Guerrero's sacrifice fly made it 1-0. But Carolina countered quickly, with Todd Hankins belted a leadoff triple and scoring two batter's later on Gonzalez' double to tie it up.
In the last of the fourth,
Ollie Linton
drew a one-out walk. With James Roberts batting, Linton took off for second, stealing the bag and beginning a chaotic sequence. The throw to second skidded off the runner into shallow left field. Linton took off for third, and shortstop
Ryan Dent
tracked down the ball and fired to third. That throw skipped under the third-baseman's glove and into foul territory, bouncing into the Mudcats dugout. With the ball out of play, Linton touched home plate as a result of two throwing errors, and Carolina led 2-1.
Josh Martin
earned the win in game two, dealing two and two-thirds hitless innings out of the pen.
Louis Head
struck out the side in a dominant seventh, earning his fourth save of the year. Salem's
Simon Mercedes
suffered the loss despite pitching solidly, allowing just two runs (one earned) over four and a third. In relief,
Elis Jimenez
tossed an inning and two-thirds of scoreless
baseball
in his
carolina league
debut.
Salem and Carolina will reunite for the series finale 
on Thursday
 evening at Five County Stadium, with the first pitch scheduled for 
7 PM
.