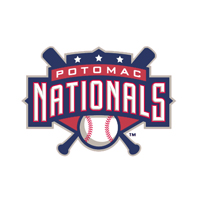 The Potomac Nationals' (35-29, 17-17) comeback attempt proved not enough in Game Two on Tuesday evening at Five County Stadium as the Carolina Mudcats (28-35, 14-20) got by the visiting club 6-4 to even the three-game set and force a rubber match.
The Potomac Nationals' magic number to clinch their second straight Carolina League First-Half Northern Division Championship remains at four wins with five games to play before the circuit's all-star break.
The P-Nats own a 2.5 games lead over the second-place, Lynchburg Hillcats (Atlanta Braves) headed into their final road game of the 2014 season's first half ftomorrow night in the Tar Heel State.
Carolina pounded out 13 base hits and went 7-for-13 with runners in scoring position as a club.
Washington Nationals OF Jeff Kobernus, who was added to the P-Nats' roster yesterday on the mend from a fractured right hand after being placed on the 60-day disabled list in mid-April, was originally on the Potomac Nationals lineup card in the leadoff spot as the designated hitter but was a late scratch before first pitch was thrown.
Nationals starting hurler, RHP Dakota Bacus (2-2) ran into trouble in the opening frame allowing six singles. Carolina 3B Yandy Diaz, 1B Joe Sever, and C Alex Monsalve all registered RBI one-base knocks to provide an early 3-0 advantage for the Mudcats. Potomac LF Oscar Tejeda threw out Sever at home plate on a single by 2B James Roberts to end any further threat.
Bacus, the losing pitcher of record, dealt 4.0 innings allowing four earned runs on nine hits while walking one and fanning a pair.
Mudcats Field Manager, Scooter Tucker was ejected in the 3rd inning by Base Umpire, Cody Oakes after the skipper argued a caught stealing of SS Erik Gonzalez, who went 3-for-4 with one run scored, two doubles, and one RBI in the contest.
The Nationals jumped on the scoreboard in the 4th inning against the winning pitcher, Mudcats RHP Michael Peoples (3-6). Tejeda led off by spanking a single into left field and would end up scoring on an RBI sacrifice fly off the stick of CF Will Piwnica-Worms.
Peoples motored through 5.0 innings and allowed just one earned run on three hits. The righty walked two and struck out three.
Carolina answered swiftly in the last of the 4th with one run on a sac fly from RF Luigi Rodriguez that scored DH Jeremy Lucas, who received a leadoff walk from Bacus.
Two more runs were plated for the Mudcats off P-Nats RHP Ian Dickson an inning later. Dickson surrendered two runs, both earned, on a Gonzalez double up the left field line and a sac fly from Lucas to take a 6-1 lead.
The Nationals got to Carolina RHP D.J. Brown in the 6th stanza with a bases-loaded two-run single off the lumber of DH Mike McQuillan that plated SS Stephen Perez, who received a free pass to first base, and Tejeda, who reached on a dropped popup along the right field line by Rodriguez.
Mudcats RHP Benny Suarez was terrific in relief going 2.1 scoreless innings without allowing a walk.
Nationals RHP Gilberto Mendez pitched a scoreless 8th inning to give the P-Nats a chance in the 9th.
In the top of the 9th, Carolina RHP Jacob Lee (SV 1) recorded his first career professional save by fanning the side despite surrendering a solo home run to C Pedro Severino blasted out to left field. The tater was Severino's fourth four-bagger of his current campaign. Lee got McQuillan, RF Justin Miller, and 2B Tony Renda all swinging. Renda nipped the ball into the catcher's mitt of Monsalve on a 3-2 pitch to end the game in Carolina's favor.
In the rubber match finale on Wednesday night, the P-Nats send RHP Blake Schwartz (0-0, 2.70) to the bump to gun against Carolina LHP Ryan Merritt (6-2, 1.66).
Schwartz represented the Nationals in the 2013 California/Carolina League All-Star Game while Merritt has been chosen to the Carolina League All Star Roster in 2014.
The Potomac Nationals Baseball Network, accessible by heading online to www.potomacnationals.com, will broadcast live coverage of the Nationals' Game Three series finale versus the Carolina Mudcats (Cleveland Indians) on Wednesday night beginning with the P-Nats Leadoff Show at 6:45pm before the play-by-play at 7:00pm.