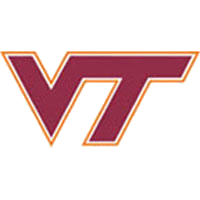 Virginia Tech tight end Bucky Hodges announced on Twitter Wednesday that he will remain at Virginia Tech after considering entering the 2016 NFL Draft.
"Staying another year in Blacksburg let's make history!!!" he tweeted, ending speculation as to the talented 6'7", 241-pound tight end's future.
Hodges, who had 40 catches for 530 yards and six touchdowns as a redshirt sophomore in 2015, had been rated the #3 draft-eligible tight end at the end of the 2015 by ESPN draft guru Mel Kiper Jr.
He sought out the counsel of the NFL draft advisory board, which offers one of three recommendations: first round, second round or return to school.
Hodges got the return to school recommendation from the board.
Teammate Kendall Fuller, a junior cornerback, is entering the 2016 draft, and despite having his 2015 season end early due to a knee injury, Fuller is a projected first-round pick.