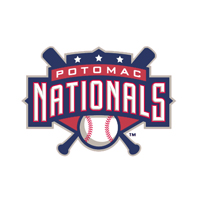 The Potomac Nationals beat the Salem Red Sox 10-1 at Pfitzner Stadium Tuesday night, for a seventh consecutive win over the Sox. Austin Both was dominant in his Carolina League debut, throwing six shutout innings, allowing just two hits and two walks, with six strikeouts. Pat Light was roughed up in the loss, surrendering 10 hits and seven runs in just two and a third innings of work.
The Nationals didn't waste time getting out to a lead. Tony Renda led off the game with a single, followed by a walk to Bryce Harper. Wilson Ramos stepped up and drove in a fourth run in two games with a single to give the P-Nats a 1-0 lead. Oscar Tejeda then followed with a ground ball that retired Ramos but allowed Tejeda to reach and pick up a RBI, scoring Harper to make it 2-0. An RBI groundout by Stephen Perez made it 3-0 P-Nats after one.
Potomac added a run in the second. Wilson Ramos drove in another run, scoring Mike McQuillan who walked, to make it 4-0 Potomac.
Then another mashing of hits came in the third. Tejeda, Perez, Randolph Oduber, Will Piwnica-Worms and McQuillan struck for five consecutive singles off Light, chasing the right hander. Those five hits made it 6-0 Potomac. Two batters later, Harper drove in a seventh run, this one off of Kraus, but charged to Light.
Potomac held a 7-0 lead until the fifth inning. Piwnica-Worms knocked a one out double and Tony Renda walked to give the P-Nats two on with two outs. Harper then showed off his incredible power, launching a massive home run over the right center field wall to give the P-Nats a 10-0 lead.
The Sox lone run came in the seventh on a solo home run by Aneury Tavarez.
Salem is now 0-7 at Pfitzner Stadium in 2014, and has dropped 21 of its last 27 on the road. The Sox return to LewisGale Fieldtomorrow night at 7:05 against the Carolina Mudcats. Corey Littrell is slated to start for Salem.