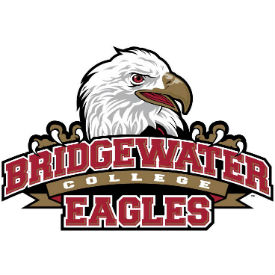 The Bridgewater College football team finished strong on Senior Day, with an emphatic 45-13 victory over visiting Catholic.  The 4-6 season did not go how Bridgewater would have liked, but the Eagles sent their 28 seniors out in style with that class contributing four touchdown passes, a TD reception, two TD rushes, and an interception.
Senior quarterback Matthew Pisarcik had his best game of the season, completing 17-of-24 passes for 319 yards and three TDs, while rushing for another score.
That included an 85-yard TD pass to tight end Keith Jennings in the third quarter, who made his defender fall down to break the play for a 31-6 lead. In the fourth quarter, Pisarcik went deep again to Dylan Horne– this time for a 75-yard score.
Jennings had a monster day with seven catches for 163 yards and that score, while Horne totaled 98 yards on four receptions.
Senior Kevon White opened the scoring with a four-yard touchdown run just 1:28 into the action after an impressive Bridgewater drive. He finished with 102 yards on 22 carries, and broke the 2,000-yard career rushing milestone on a carry to midfield late in the first quarter.
Defensively, Sonny Romine (10 tackles) and Davey Hardesty (eight tackles) each forced a fumble that was recovered by the other in the first quarter. Isaac Evans totaled seven tackles, a sack, two pass breakups and an interception, and senior Anthony Moton, II also picked off a pass as the Eagles defense forced four turnovers and made two fourth down stops.
On the opening play of the second quarter, Pisarcik pulled off a nice play-action fake and hit seniorKevin Barr wide open over the top for a 14-0 Eagles lead.
An Arris Payton sack led to a BC fourth down stop, and Pisarcik ran it in from 10 yards out to make it 21-0 BC in the second quarter.
Bridgewater put together another drive at the end of the half to set up a Chandler DeHaven field goal with 11 seconds left and a 24-6 halftime advantage. Catholic had gotten on the board when Jamie Young made a spectacular fade route catch in the corner of the end zone.
Head coach Mike Clark had been stressing the lack of big plays in Bridgewater's five-game losing streak leading up to Saturday, and the Eagles kept threatening to pick up huge gains throughout the contest. Rayvon Johnson totaled 108 yards on three kickoff returns, and White had a run of over 50 yards called back on a holding penalty. Pisarcik also just missed Horne down the seam in the third quarter on what could have been a 40-yard TD to go with his two scoring passes of 75 yards or more.
Senior quarterback Ross Rushing was doubtful to play in his final game with a shoulder injury picked up two weeks ago, but went out for Bridgewater's final possession. He scrambled for a first down, and then hit Zane Grudzinski for a 13-yard score that capped off the 45-13 victory.
Bridgewater wraps up the 2015 campaign with a mark of 4-6, 2-5 ODAC, while Catholic falls to 3-7, 1-6.