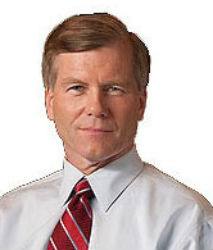 The Fourth Circuit Court of Appeals turned down the request of former Virginia Gov. Bob McDonnell to have the entire court reconsider the appeal of his conviction on public corruption charges, leaving him one avenue – the U.S. Supreme Court.
None of the appeals court's 15 judges voted to rehear the appeal. Seven of the judges in the Richmond-based appeals court disqualified themselves and did not participate in the vote.
McDonnell, a one-time rising star in Republican circles after being elected to two statewide offices in Virginia, was convicted in September for taking loans and gifts from a Richmond businessman in exchange for arranging meetings with state officials.
McDonnell was sentenced to two years in prison, and his wife, Maureen, also convicted in the case, was sentenced to a year and a day in prison.
An appeal filed by Maureen McDonnell is still pending.