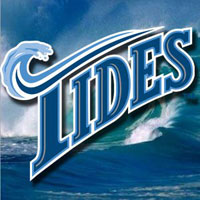 The biggest Harbor Park crowd of the year witnessed the Norfolk Tides defeat the Durham Bulls 3-2 Saturday night.
Rick VandenHurk (8-13, 4.58) delivered his second-straight strong outing for the Tides much to the delight of the 11,031 fans in attendance. The Dutch righthander tossed 6.0 innings and allowed just one run on two hits. His lone blemish came in the 2nd inning when he served up a two-out home run to Matt Carson.
The Tides came right back with four-straight hits to leadoff the 2nd inning. Robbie Widlansky's single off Leslie Anderson's glove at first base plated Jake Fox to tie the game. Tyler Henson followed with an RBI single that ricocheted off pitcher Andy Sonnanstine and scored Brandon Snyder to give the home team the lead.
The Tides bullpen made things interesting in relief of VandenHurk but continually worked their way out of jams to preserve the lead. Wynn Pelzer allowed the first two batters he faced to reach base in the 7th inning but got Leslie Anderson to ground into a double play before coaxing a weak, inning-ending pop-up from Ray Olmedo to end the threat unharmed.
After Brendan Harris added an RBI single to make it 3-1 in the 7th inning, Pelzer worked himself into more trouble the following frame. The righthander walked two of the first three batters he faced in the inning before ceding ball to Zach Phillips with one out. Dan Johnson brought the visitors to within a run with an RBI single off Phillips, but Tides closer Mark Worrell came in and struck out Russ Canzler to end the frame.
Worrell earned his 17th save of the season after tossing a scoreless 9th inning.
Sonnanstine (3-4, 3.86) took the loss after allowing three runs on six hits in 6.0 innings. He struck out six batters and walked two.
The Tides will close out their homestand Sunday at 6:15 when they host the same Durham Bulls. LH Chris George (6-4, 4.16) gets the call for the home team opposite RH Matt Torra. The first 4,000 fans to enter the park will receive a Jake Fox full-color photo courtesy of Bank of the Commonwealth and Hot 100.5 FM.