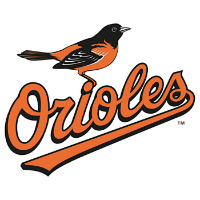 Mark Trumbo hit his MLB-leading 19th homer in a three-run seventh as Baltimore defeated defending world champion Kansas City 4-1 on Monday.
Trumbo's solo shot tied the game at 1-1. Matt Wieters followed one out later with his fifth homer, another solo shot, and an Adam Jones RBI double made it 3-1 Orioles.
Manny Machado hit his 15th homer in the eighth to add insurance for the O's (33-23).
Mike Wright (3-3, 5.14 ERA) got the win, allowing a run on five hits in seven innings of work, with four strikeouts and two walks.
Brad Brach (8 holds, 0.88 ERA) struck out the side in a scoreless eighth.
Zach Britton (18 saves, 1.07 ERA) closed the game out with a 1-2-3 ninth.