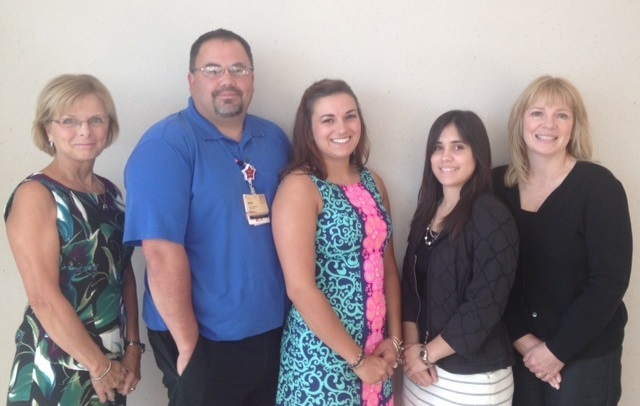 Augusta Health recently honored the recipients of this year's Dick Graham Scholarship. The scholarship is giving annually to a child of an employee of Augusta Health, named in honor of the hospital's first CEO, Dick Graham.  Most years, one scholarship is given, but this year, the Community Benefit Committee selected two recipients.
Those selected were:
Kayla Bennett, a sophomore at JMU who is studying nursing.  Her father, Brad Bennett, is a nurse in the Hospice.
Sophia Jimenez, a freshman at Virginia Tech who is studying engineering.  Her mother, Ann Jimenez, is a nurse in the ICU.
Pictured in the photo (left to right): Arona Richard, chair of Augusta Health's Community Benefit Committee, Brad Bennett, Hospice nurse, Kayla Bennett, scholarship recipient, Sophia Jimenez, scholarship recipient, Ann Jimenez, ICU nurse