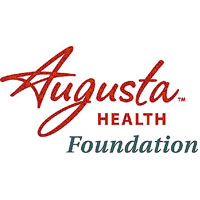 Each New Year's Day is a time for both reflecting on the year past and focusing on the goals of the year to come.  For the Augusta Health Foundation, 2014 was its first full year of operation, and one that included many firsts and significant accomplishments.
The mission of the Augusta Health Foundation is to build private, charitable support for new and expanded patient care programs, facilities, and equipment.  It helps to ensure that our community has access to top-notch healthcare and life-saving care right here at home, when critical minutes matter.  All administrative costs of operating the Augusta Health Foundation are generously provided for by Augusta Health, therefore 100% of all gifts made to support patient and employee services support the donor-intended service; every dollar raised by the Foundation stays right here in our community.
Augusta Health has a long history of providing financial assistance to its patients; last year alone, the organization provided $43 million in uncompensated care to members of the community in need.  The Augusta Health Foundation continues that tradition of supporting programs for those who are unable to afford needed services or end-of-life care.
Some of the first year accomplishments of the Augusta Health Foundation included:
The recruiting of the Augusta Health Foundation Board, a volunteer board comprised by members of our Staunton, Augusta County, and Waynesboro community, chaired by Beverly S. 'Cheri' Moran. Its inaugural meeting was held in June, 2014;
A first-ever Employee Campaign last May raised $62,000 with over 600 employees making charitable gifts to support services at Augusta Health. The Campaign was kicked off by a week of special activities for employees.
The creation of an Employee Advisory Committee of the Foundation. The Committee helped to establish the new Employee Emergency Fund with contributions by employees. This "Friends Helping Friends" fund provides financial assistance to eligible employees in times of disaster or personal emergency.
A very successful 20th Anniversary Celebration event which raised $78,000 for the Cancer Services Bridge Fund, a fund that supports patients undergoing cancer treatment.
A 60% increase of philanthropic support for hospice services and programs.
"We are truly grateful for the outpouring of support from our community," said Tami Radecke, Vice President-Fund Development & Executive Director of the Foundation.  "In just our first year of operations, more than $400,000 has been raised to support essential services and program, such as the Augusta Health Employee Emergency Fund, the Cancer Services Bridge Fund and the Hospice Gift Care program."
Looking forward to 2015, Augusta Health Foundation plans to expand opportunities for area citizens of all ages to support the health and well-being of its own community through charitable contributions and volunteer initiatives.
In addition to Tami Radecke, the Foundation staff includes Susannah Seith Via, Donor Relations Coordinator and Annual Giving Officer, Margaret Stanley Wood.
Augusta Health's mission is to promote the health and well-being of our community through access to excellent care.  Named one of the 100 Top Hospitals in America by Thomson Reuters in both 2011 and 2012, Augusta Health has also been nationally recognized by HealthGrades as one of America's 100 Best Hospitals for clinical excellence and patient safety for the last three consecutive years.
For more information about Augusta Health, its programs or its services, please contact public relations at 540.245.7329 or 540.221.7329, or visit our website, www.augustahealth.com.