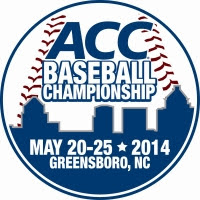 Exclusive AFP sponsorship covers two full weeks – 5/15 – 5/28
AFP is following the top-ranked UVa. baseball team to the 2014 ACC Baseball Tournament at NewBridge Bank Park in Greensboro, N.C.
AugustaFreePress.com editor Chris Graham will be on the scene at the May 20-25 ACC Tournament with live in-game blogs from the press box featuring updated game stats, commentary, analysis and more. Postgame coverage will include video interviews with Coach Brian O'Connor and All-Americans and future top MLB draft picks Derek Fisher, Mike Papi, Nathan Kirby and Nick Howard.
Your business may be the exclusive sponsor of AugustaFreePress.com coverage of the series with a Website takeover package running Thurs., May 15 – Wed., May 28.
The $1,000 exclusive package will include ….
– Top Leaderboard ad on AFP with link to your website
– Wing ads on AFP with link to your website
– Background on site will blend with your ad design
– Free ad design by AFP
Bonus features may include your logo on video segments, live mentions on any podcasts done during this time, frequent Facebook mentions and more.
Past sponsors of our coverage include Wild Wolf Brewing Company, Massanutten Water Park and Boyers Heating and Air Conditioning. (Prepayment is required. Credit cards are accepted.)
AugustaFreePress.com has become one of the premier sources for coverage of UVa. athletics. AFP traveled with the UVa. men's basketball team to Greensboro for the ACC Tournament and to Raleigh and New York City for their run to the Sweet 16 in the NCAA Basketball Tournament.
Chris will also host special editions of the UVa. sports podcast Cavalanche! with in-depth coverage of the UVa.-Georgia Tech series.
Join Augusta Free Press all weekend for coverage of UVa. baseball at the ACC Tournament.
Let us know if this is something you have an interest in! This offer is first come, first serve and is EXCLUSIVE. Contact me today if you'd like to discuss!