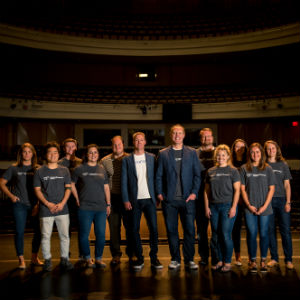 Virginia Tech's Apex Center for Entrepreneurs has won the Outstanding Emerging Entrepreneurship Center Award, given by the Global Consortium of Entrepreneurship Centers.
The winners in seven categories were announced at this year's conference held recently in Chicago. The Apex Center, housed in the Pamplin College of Business, was selected from a group of entrepreneurship programs founded in the past five years.
"The Apex Center is playing a tremendous role in transforming the student education experience at Virginia Tech and beyond," said Pamplin Dean Robert Sumichrast. "This award is further recognition of the center's impact in helping our students, faculty, and alumni in launching new ventures and building companies that help to diversify and strengthen the economy across the commonwealth."
One of the initiatives highlighted in the award application was the interdisciplinary nature of the Apex Center's programs. Last year, more than 1,900 students from eight colleges at Virginia Tech engaged in programs and events led by the center, including 109 student-led new venture teams.
The center provides students of any major and any year the opportunity to engage in all phases of the entrepreneurship process and encourages Virginia Tech alumni to interact with the next generations of entrepreneurs.
This academic year, the center expects more than 2,500 students to participate in 18 programs offered on campus and beyond. Hokie-led companies that have engaged with the center have raised more than $93 million in capital over the past decade.
Derick Maggard, the center's executive director, said: "We're so honored to receive the Outstanding Emerging Entrepreneurship Center Award. The Apex Center brings together all Hokies, both presently enrolled and our vast community of alums, to put their passion, purpose, and ideas into action and recognize the importance of entrepreneurship in any field of study."
The center is named in recognition of a joint commitment of $5 million by four Virginia Tech alumni: Brian Callaghan, Ted Hanson, Win Sheridan, and Jeffrey Veatch.
The consortium awards are designed to showcase the best of university entrepreneurship programs. This year's conference included more than 450 representatives from more than 250 colleges and universities.
Participants at the consortium's conference, hosted by DePaul University and Illinois Institute of Technology, included directors, faculty, and staff members from entrepreneurship centers around the world.