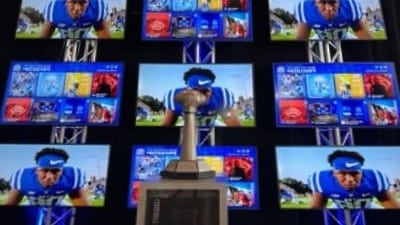 The ACC Week 8 schedule kicks off on Thursday night with UVA and Georgia Tech meeting up in Atlanta on ESPN.
Then it's four games on Saturday, with a matchup of unbeatens – #5 Clemson and #14 Syracuse – the highlight.
Florida State, North Carolina, NC State and Virginia Tech all have byes this weekend.
Schedule
Thursday, Oct. 20
Time, TV, SiriusXM, App/Web
Virginia (2-4, 0-3) at Georgia Tech (3-3, 2-1), 7:30 p.m., ESPN, 138 or 193, 955
Series: Series tied, 21-21-1; Last meeting: Virginia, 48-40 (2021)
ESPN: Matt Barrie (play-by-play), Louis Riddick (analyst), Harry Lyles Jr. (sideline)
Line: Georgia Tech -3
Over-under: 45.5
Vegas idea on the final score: Georgia Tech 24, Virginia 21
Saturday, Oct. 22
Time, TV, SiriusXM, App/Web
No. 14 Syracuse (6-0, 3-0) at No. 5 Clemson (7-0, 5-0), Noon, ABC, 133 or 193, 955
Series: Clemson leads series, 8-2; Last meeting: Clemson, 17-14 (2021)
ABC: Sean McDonough (play-by-play), Todd Blackledge (analyst), Molly McGrath (sideline)
Line: Clemson -13.5
Over-under: 51.5
Vegas idea on the final score: Clemson 33, Syracuse 19
Duke (4-3, 1-2) at Miami (3-3, 1-1), 12:30 p.m., RSN, 108 or 204, 967
Series: Miami leads series, 15-4; Last meeting: Miami, 47-10 (2021)
RSN: Tom Werme (play-by-play), James Bates (analyst), Wiley Ballard (sideline)
Line: Miami -8
Over-under: 59
Vegas idea on the final score: Miami 34, Duke 26
Boston College (2-4, 1-3) at No. 13 Wake Forest (5-1, 1-1), 3:30 p.m., ACCN, 133 or 193, 955
Series: Wake Forest leads series, 14-12-2; Last meeting: Wake Forest, 41-10 (2021)
ACCN: Chris Cotter (play-by-play), Mark Herzlich (analyst), Lericia Harris (sideline)
Line: Wake Forest -21
Over-under: 61.5
Vegas idea on the final score: Wake Forest 41, Boston College 20
Pitt (4-2, 1-1) at Louisville (3-3, 1-3), 8 p.m., ACCN, 133 or 193, 955
Series: Louisville leads series, 10-8; Last meeting: Pitt, 23-20 (2020)
ACCN: Dave O'Brien (play-by-play), Tim Hasselbeck (analyst), Kelsey Riggs (sideline)
Line: Louisville -1
Over-under: 55.5
Vegas idea on the final score: Louisville 28, Pitt 27