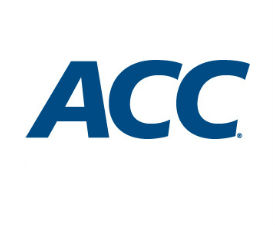 Quarterbacks Tajh Boyd of Clemson and Jameis Winston of Florida State head up the Atlantic Coast Conference Football Player of the Week honorees for Week 6 after leading their teams to conference victories with eye-opening performances on Saturday.
Boyd was named the ACC Offensive Back of the Week after throwing for a school-record 455 yards and five touchdowns in the third-ranked Tigers' 49-14 ACC road win at Syracuse. Winston earned ACC Rookie of the Week honors after throwing for career highs of 393 yards and five touchdowns in the eighth-ranked Seminoles' 63-0 victory over 25th-ranked Maryland.
Boyd was one of three Clemson players honored, as senior guard Kalon Davis picked up ACC Offensive Lineman of the Week accolades, and junior end Vic Beasley was named the ACC Defensive Lineman of the Week.
Miami saw two players recognized following the 14th-ranked Hurricanes' 45-30 win over Georgia Tech, as cornerback Ladarius Gunter was named the ACC Defensive Back of the Week and sophomore running back/kick returner Duke Johnson was named the ACC Specialist of the Week.
Wake Forest senior Michael Campanaro was honored as the ACC Receiver of the Week, and Boston College senior Kevin Pierre-Louis received the nod as ACC Linebacker of the Week.
The weekly honor is the fourth of the season for Florida State's Winston, who was named ACC Rookie of the Week for the third time and earned ACC Offensive Back of the Week honors on Sept. 30. Winston also received national accolades this week, as he was cited as the National Offensive Player of the Week by both the Walter Camp Foundation and Athlon Sports on Sunday.
Clemson's Boyd was named the ACC Offensive Back of the Week for the second time in 2013 after also receiving the honor on Sept. 3. Clemson's Beasley was also honored for the second time this season after being named the ACC Co-Defensive Lineman of the Week on Sept. 23.
OFFENSIVE BACK – Tajh Boyd, Sr.-R QB, Clemson, 6-1, 225, Hampton, Va. Boyd completed 20-of-27 passes for 455 yards and five touchdowns in Clemson's win over Syracuse. Boyd had a passing efficiency mark of 261.1, the best in the nation this year given a minimum of 20 attempts. Boyd threw for five touchdowns totaling 250 yards, the most single-game yards on scoring passes in Clemson history.  He had a 60-yard scoring pass to Adam Humphries, a 42-yarder to Humphries, a 40-yarder to Martavis Bryant and a 17-yarder to Stanton Seckinger in the first half.  He then threw a 91-yard scoring pass to Sammy Watkins in the third period to put the game away.  That was the second longest play from scrimmage in Clemson history. Boyd became the third player in ACC history to go over 10,000 yards in total offense with the performance.  It was his 26th win as a Clemson quarterback, placing him second in school history.
OFFENSIVE LINEMAN – Kalon Davis, Clemson, Jr.-R, OG, 6-5, 330, Chester, S.C.
Davis graded out at a career-high 93 percent for 62 plays and had five knockdown blocks in Clemson's win over Syracuse.  He graded 97 percent on pass blocking against the Syracuse defense that did a lot of blitzing. The Clemson offense gained 439 yards in the first half and scored 35 points with Davis playing all 49 snaps at offensive guard.  The Tigers finished with 49 points and 624 yards of total offense.
RECEIVER – Michael Campanaro, Wake Forest, Sr.-R, WR, 5-11, 190, Clarksville, Md.
Campanaro hauled in 12 passes for 153 yards and two touchdowns in Wake Forest's 28-13 win over NC State,. Campanaro caught scoring passes of 10 and 27 yards from quarterback Tanner Price, and 10 of his 12 receptions resulted in first downs for Wake Forest. The big receiving day gave Campanaro a total of 206 receptions for his career and into second place on Wake Forest's all-time list, just 10 behind the school record of 216 set by Desmond Clark from 1995-98.
DEFENSIVE LINEMAN – Vic Beasley, Clemson, Jr-R. DE, 6-3, 225, Adairsville, Ga.
Beasley had two sacks for eight yards and four tackles for loss for 13 yards in Clemson's win over Syracuse.  He had five total tackles in 43 snaps. He moved into the national lead in sacks with the performance with eight in five games. Twice in the second half, a sack by Beasley took Syracuse out of field goal range, including once with the score 35-14 and Syracuse in the midst of a potential momentum-changing drive.  Beasley also had a quarterback pressure and his constant presence in the offensive backfield helped limit the Orange only had 74 passing yards.
LINEBACKER – Kevin Pierre-Louis, Sr., Boston College, LB, 6-1, 225, Norwalk, Conn.
Pierre-Louis recorded a career-high 18 tackles, including 10 solo tackles, in Boston College's 48-27 home victory over Army. It marked his third game this season with 10 (or more) tackles and the 13th of his 36-game collegiate career. Pierre-Louis, who ranks second in the ACC with 50 tackles in five games, has recorded a league-high 28 solo stops.
.
DEFENSIVE BACK – Ladarius Gunter, Miami, Jr., CB, 6-2, 196, Montgomery, Ala.
Gunter recorded seven tackles, including one for a loss, and had a key interception return for a touchdown in Miami's 45-30 win over Georgia Tech. Gunter's 30-yard interception return for a touchdown helped seal Miami's ACC win over the Yellow Jackets and extended the Hurricanes' win streak to seven games. Gunter is the first Miami defensive back to return an interception for a TD since Ray-Ray Armstrong did so in 2010, and the first for any Miami player since Denzel Perryman's 41-yard return in the 2012 season opener at Boston College. Gunter is one of three Hurricanes tied for the team lead with two interceptions.
SPECIALIST – Duke Johnson,  Miami, So., RB/KR, 5-9, 194, Miami, Fla.
Johnson finished with a game-high 325 all-purpose yards in Miami's 45-30 win over Georgia Tech, his eighth career 200-yard game and second career 300-yard game. Johnson tallied 114 kick return yards on four tries and a game-high 184 rushing yards. Johnson leads the Hurricanes with 572 rushing yards on 84 carries (6.8 yards per rush) and 954 all-purpose yards.
ROOKIE – Jameis Winston, Florida State, Fr-R., QB, 6-4, 225, Bessemer, Ala.
Winston threw for season highs of 393 yards and five touchdowns and completed 23-of-32 passes in the No. 8 Seminoles' 63-0 victory over No. 25 Maryland on Saturday. Winston tallied those marks and led FSU to 614 yards of total offense against a Terrapins' unit that entered the game ranked sixth in the country in total defense and eighth in pass efficiency defense. Winston leads the ACC in pass efficiency (213.9), completion percentage (73.2), yards per attempt (11.7), passing touchdowns (17) and points responsibility (114). He has thrown for at least 300 yards and four touchdowns in all three of his ACC games this season.