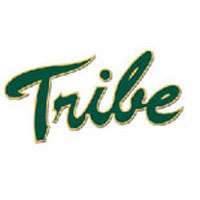 The No. 15/18 William and Mary football team was edged by No. 5/4 Villanova, 35-31, on Homecoming at Zable Stadium on Saturday afternoon.
Although W&M (4-3, 1-2) led, 31-28, with less than a minute remaining, Villanova (6-1, 4-0) scored the game-winning touchdown on a 13-yard pass from quarterback John Robertson to wide receiver Kevin Gulyas with just 0:52 on the clock. The seven-play, 69-yard drive lasted just 0:59 and was keyed by a 34-yard pass from Robertson to wideout Clay Horne on a third-and-10 near midfield.
The Tribe marched to the Wildcats' 32-yard line on the ensuing drive, but sophomore quarterbackSteve Cluley's heave into the end zone was batted down as time expired.
W&M outgained VU, 518-444, and was led by senior wide receiver Tre McBride, who totaled a school-record 359 all-purpose yards as well as a career-high 11 catches for 209 yards and two touchdowns. The impressive performance marked the sixth-most receiving yards in school history and the most catches by a Tribe player since 2004 (Joe Nicholas vs. Delaware – NCAA quarterfinal game).
Cluley also came up big and completed 21-of-32 passes for a career-high 350 yards with three touchdowns. The passing yardage ranks as the 18th-best total in school history.
Although Villanova scored a touchdown on the game's opening drive with a 5-yard pass from Robertson to running back Kevin Monangai, W&M answered with a six-play, 72-yard march that culminated with a 35-yard touchdown pass from Cluley to McBride.
After VU reclaimed the lead, 14-7, on a 2-yard touchdown run by Robertson late in the first quarter, W&M knotted the score again on a 56-yard, flea-flicker touchdown pass from Cluley to McBride with 14:00 left in the second quarter.
The College took its first lead of the contest, 21-14, with just 0:19 remaining in the opening half on a 2-yard touchdown run by sophomore Kendell Anderson. The six-play, 88-yard drive lasted just 1:12 and was highlighted by a 42-yard run by Anderson.
W&M's lead could have been bigger, but it lost a pair of fumbles in the red zone during the second quarter.
En route to outgaining Villanova, 308-227, in the first half, W&M was led by Cluley who completed 10-of-11 passes for 186 yards and two touchdowns in the opening 30 minutes. In addition to being on the receiving end of both touchdown passes, McBride's first half stats also included four catches for 121 yards.
After holding W&M to a three-and-out on the opening possession of the second half, Villanova tied the score at 21-21 on a 1-yard touchdown run by Monangai. The eight-play, 72-yard drive was jumpstarted with a 50-yard catch by Horne on the drive's initial play.
The Tribe briefly reclaimed the lead on a 26-yard field goal by Carpenter, but VU answered with another scoring drive that culminated with a 3-yard touchdown run by Robertson to lead, 28-24, with 1:54 left in the third quarter.
W&M took its final lead on a 3-yard touchdown pass from Cluley to freshman tight end Andrew Caskin early in the fourth quarter. The quick five-play touchdown drive covered just 40 yards and began after junior cornerback DeAndre Houston-Carson blocked a punt, the fifth blocked kick of his career.
After both teams were held to punts on the following drives, the Wildcats' game-winning march began after a 2-yard punt by W&M at its own 31-yard line with 1:51 remaining.
In addition to the blocked punt, Houston-Carson totaled a team-high 10 tackles, while senior safetyIvan Tagoe posted nine stops and 2.0 tackles for a loss. As a team, W&M recorded six sacks and nine tackles for a loss.
Robertson led Villanova, as he accounted for four of the Wildcats' touchdowns (two passing, two rushing). It marked the first time that an opposing player has thrown and rushed for a pair of scores versus W&M since 2008 (R.J. Tomas at New Hampshire).
The Tribe will return to action when it hosts Delaware next Saturday at 12:30 p.m.