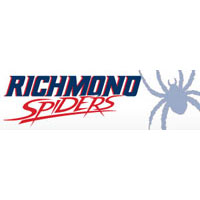 Richmond displayed a gutsy and tough performance, but ultimately came up short in a 67-59 defeat to No. 22 West Virginia in the Continental Tire Las Vegas Invitational on Thursday night.
The Spiders (3-2) outrebounded West Virginia (5-0) by a margin of 36-31 and Richmond's defense held the Mountaineers to a scoring output nearly 30 points lower than their season average. Richmond made six steals and limited West Virginia to 15.4 percent shooting from beyond the arc.
"I thought that our effort and toughness were tremendous tonight," head coach Chris Mooney said. "We responded to each one of their runs, and played with a lot of heart. We needed just a few more shots to fall to get us over that hump at different points in the game."
Terry Allen led the way for Richmond once again with 20 points and six rebounds. He added two steals and two assists as he went 10-of-12 from the free throw line. ShawnDre' Jones performed admirably as well, scoring 15 points with just two turnovers against the West Virginia full-court press. Allen and Jones combined for 75 total minutes played out of a possible 80.
Marshall Wood scored eight points with six rebounds, including three on the offensive glass. T.J. Cline and Deion Taylor each added five points.
West Virginia was led with a double-double from Devin Williams, who scored 23 points with 12 rebounds. Jevon Carter added 13 points.
WVU built an 18-6 lead early off some steals and easy transition buckets. But the Spiders responded with a furious 11-2 run to cut the margin to 20-17. As fouls accumulated on both teams, most the first half's scoring came from the foul line where each team shot 16 first-half free throws.
A Carter three-pointer put WVU up by eight with 1:39 left in the first, but a jumper from Jones and a buzzer-beating three from Trey Davis made the halftime score 35-31.
Richmond came out strong in the second half, putting together a number of impressive runs. However, West Virginia responded each time and UR was never able to tie or take the lead. An offensive rebound and put-back from Wood cut the score to 54-52 with 5:51 left and free throws from Jones brought it back to a two-point margin just three minutes later. But a three-pointer from Jaysean Paige with 2:25 left made it a two-possession game and the Spiders were unable to draw closer down the stretch.
Richmond will play the loser of Cal-San Diego State tomorrow at 8 ET/5 PT at Orleans Arena.