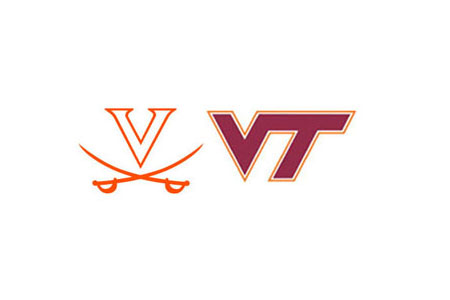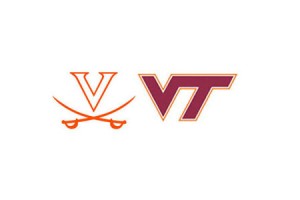 Virginia Cavaliers (20-4, 7-2 ACC)
Probable Starting Rotation
Fri. – So. LHP Nathan Kirby (5-1, 1.21 ERA)
Sat. – So. RHP Josh Sborz (3-1, 2.56 ERA)
Sun. – So. LHP Brandon Waddell (3-1, 3.67 ERA)
Virginia Tech Hokies (12-9-1, 5-4 ACC)
Probable Starting Rotation
Fri. – Sr. RHP Brad Markey (2-3, 3.13 ERA)
Sat. – Jr. LHP Sean Keselica (2-0, 6.30 ERA)
Sun. – TBA
The second-ranked UVa. baseball team continues a stretch of six home games in eight days as it plays host to Virginia Tech this weekend in a three-game ACC series at Davenport Field. The series opens at 6 p.m. Friday and will be followed by 1 p.m. contests on Saturday and Sunday.
Broadcast Information
Live video broadcasts will be available for all three games through a Cavaliers Live subscription on VirginiaSports.com. Live statistics (GameTracker) also will be located on VirginiaSports.com. The video and live stats also can be accessed through the Virginia Sports app, which is available through iTunes.
Parking Information
Parking will be available in the University Hall, John Paul Jones Arena and McCue lots all weekend as well as the Emmet-Ivy Garage on Friday and Saturday.
On Saturday the JPJ lot must be vacated by 5 p.m. because of an event at the arena that evening.
Fans should also be aware that there will be increased traffic in the area on Friday because of packet pickup for the Charlottesville 10 Miler from 5-8 p.m. at JPJ.
Promotions
Free hot dogs will be served to the first 50 UVa students at the Friday game. Friday is also an Orange Passport game for UVa students. The second UVa Baseball trading card set will be handed out Friday.
Sunday is Little League Day and also is an ACC Family Sunday. After the Sunday game, all fans are invited to take the field where kids can run the bases and get autographs from the team.
Virginia in the Latest National Rankings
NCBWA – 1
USA Today Coaches – 2
Baseball America, Perfect Game – 3
Collegiate Baseball – 4
Noting the Cavaliers
Winner of 10 of straight home games, Virginia tops the ACC and ranks 13th nationally in ERA at 2.26 and is limiting its opponents to a .199 batting average, which is fourth lowest in the nation. Connor Jones (1.06) and Nathan Kirby (1.21) rank one-two in ERA in the ACC.
Virginia is batting .288 as a team, which third in the ACC. Mike Papi leads the team in batting at .325, while Daniel Pinero is second at .316. The two rank 13th and 18th, respectively in the conference in batting. The Cavaliers rank second nationally in fielding at .987, trailing only Stony Brook (.989).
Virginia-Virginia Tech Series
Virginia holds a 92-79 advantage in the all-time series with the Hokies. Virginia Tech won three of four games last year against UVa, including two of three in Blacksburg and one at the ACC Baseball Championship.
UVa has won 10 of the 12 games against Virginia Tech in Charlottesville since the Hokies joined the ACC in 2006. UVa is 19-7 against Virginia Tech since Brian O'Connor's first year in 2004.
Looking at Virginia Tech
Virginia Tech has started 12-9-1 this year, including a 5-4 ACC mark. After getting swept in their ACC-opening series at Clemson, the Hokies have bounced back to sweep Pittsburgh and win two of three games at Notre Dame.
Freshman Saige Jenco leads the team with a .364 batting average as well as 11 stolen bases. Tom Stoffel is batting .339, and the Hokies are hitting .265 collectively. The Hokies have a 5.30 team ERA, while opponents are batting .270 against them.
Up Next
Virginia plays host to a pair of rescheduled midweek games next week, taking on Old Dominion at 5 p.m. Tuesday and George Washington at 5 p.m. Wednesday. The Cavaliers travel to Pittsburgh next weekend for a three-game ACC series with the Panthers.