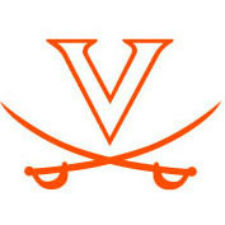 The top-ranked Virginia baseball team took both ends of a doubleheader against Monmouth Sunday afternoon at a soggy Davenport Field. The Cavaliers won game one, 5-3, before capturing the nightcap, 6-2, in a game that was called after 5 1Ž2 innings because of rain. With the series sweep, Virginia improved to 9-2 on the season.
Joe McCarthy (So., Scranton, Pa.) went 3-for-5 with three RBI in the doubleheader, while Brandon Downes (Jr., South Plainfield, N.J.) had two hits and three RBI for the day. Steve Wilgus recorded six hits in the doubleheader for Monmouth (1-5).
"I thought this was a really good weekend for us," Virginia head coach Brian O'Connor said. "Anytime you can sweep a series, you have to feel good about it. Our starting pitching did a nice job all weekend. Josh Sborz wasn't as sharp today as he has been, but he battled through it and gave us five good innings, and Brandon Waddell pitched really well today. In the second game, we did just enough offensively and capitalized on some opportunities. Monmouth has a good ballclub and is going to win a lot of games this year."
Game 2
Virginia finished with just three hits in the second game but made them count, as each hit scored at least one run. Downes and McCarthy each had two-run doubles to support starting pitcher Brandon Waddell (So., Houston, Texas), who worked all six innings to record his first career complete game as well as the first by a UVa pitcher since Branden Kline on March 24, 2012.
Waddell (2-1) allowed two runs (one earned) and five hits while striking out five. He did not issue a walk. Monmouth starter Jeff Singer (0-2) took the loss after allowing four earned runs, two hits and three walks in two innings.
In a game that was played in a slow and steady rain throughout, Virginia took a first-inning lead when Downes lined a two-run double to left-center, scoring Mike Papi (Jr., Tunkhannock, Pa.) and Derek Fisher (Jr., Rexmont, Pa.). The Cavaliers tacked on a pair of runs in the second inning, getting a run-scoring double from Daniel Pinero (Fr., Toronto, Ontario) and an RBI grounder from Fisher.
Monmouth cut the lead in half in the third inning on a two-out, two-run double to left-center field from Wilgus. Waddell was in control from that point forward, retiring 10 of the final 11 batters he faced.
The Cavaliers extended their lead to 6-2 in the fifth inning. After reliever Chris McKenna issued walks to Fisher and Downes, McCarthy ripped a line drive high off the right-center field wall for a double to score both runners.
Game 1
Virginia starting pitcher Josh Sborz (So., McLean, Va.) worked five innings and gave up his first run of the season after allowing a first-inning score. Sborz (3-0) gave up six hits and a walk while striking out four. Nick Howard (Jr., Olney, Md.) worked two perfect innings to nab his second save of the season.
T.J. Hunt (0-2) took the defeat for Monmouth after allowing four earned runs, six hits and three walks in five innings. Steve Wilgus and Jon Guida each recorded three hits for the Hawks.
Papi, Fisher and McCarthy each recorded two hits for Virginia, which finished with 10 hits as a team.
Monmouth jumped out to a 1-0 lead in the first inning. Wilgus and Guida hit back-to-back singles to start the game and after a sacrifice bunt advanced the runners, Dan Shea grounded out to first base to bring home Wilgus.
After putting runners on base in each of the first two innings, the Cavaliers cracked the scoring column in the third inning. Papi drew a one-out walk and after a Branden Cogswell (Jr., Ballston Lake, N.Y.) single, Fisher lined a double to left-center to bring in Papi and tie the game. Downes followed with an RBI single and McCarthy hit a sacrifice fly to right to give UVa a 3-1 lead.
The Hawks posted a run in the fourth inning. Jake Gronsky was hit by a pitch to start the inning. Shea then singled and one out later Craig Sweeney singled to load the bases. Sborz threw a wild pitch to allow Gronsky to score, but he buckled down to strike out the final two batters and keep the lead in tact.
UVa added a run in its half of the fourth inning with timely two-out hitting as Pinero singled up the middle to keep the inning alive. He then stole second base and scored on a Papi single to right. With the single, Papi reached base safely in his ninth straight plate appearance, dating to his final at bat last Tuesday.
Monmouth drew within one again in the seventh inning against reliever David Rosenberger (So., Bethlahem, Pa.) on a sacrifice fly by Gronsky to score Robbie Alessandrine. UVa got an insurance run in the eighth inning, taking advantage of three walks by reliever Jeff Paglione and scoring on a Pinero sacrifice fly.
Virginia is scheduled to play a pair of home contests this week, with a Tuesday matchup against George Washington and a Wednesday game against Old Dominion. Both games will start at 3 p.m.