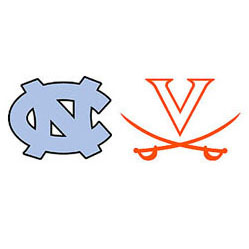 Nathan Kirby (So., Midlothian, Va.) pitched 7 2/3 innings and struck out 12, and brandon downes (Jr., South Plainfield, N.J.) homered and drove in all three UVa. runs in the top-ranked Cavaliers' 3-2 victory over North Carolina Friday evening in front of 4,576 at Davenport Field. Virginia improved to 32-6 overall and 15-4 in ACC play with the win.
"Obviously Nathan Kirby is locked in and continues to pitch at a very high level week after week," Virginia head coach Brian O'Connor said. "He is showing that he is a really high quality Friday night starter. He was terrific tonight. He needed to be because (Trent) Thornton is equally as good. Tonight it came down to one pass by brandon downes on the home run that he hit. That was great to see. I thought Downes took a lot better swings than he has. Overall, it was a very well-played game with little margin for error. I'm just glad our guys did a little bit more and handled the baseball defensively. We did what we needed to do in order to win. I would imagine that tomorrow and Sunday will be no different."
Kirby (8-1) won the showdown of the ACC's two winningest pitchers of 2014, outdueling UNC ace Trent Thornton (7-2), who worked six innings and allowed three earned runs. Kirby gave up two earned runs, six hits and two walks while striking out a dozen, the second most in his career. Kirby recorded his 10th straight quality start of the season (at least six innings pitched and three runs or fewer allowed).
Whit Mayberry (R-Sr., Alexandria, Va.) notched a key strikeout with a runner in scoring position to wrap up the eighth inning before Nick Howard (Jr., Olney, Md.) struck out the side in the ninth inning to earn his 12th save in as many opportunities. The UVa pitching trio combined to strike out 16 UNC batters.
John La Prise (So., Exton, Pa.) recorded three of Virginia's nine hits, while Downes and Howard each picked up a pair of hits. Howard scored two of UVa's runs.
Virginia struck for a pair of runs in the second inning when Downes hit a two-run home run into the left-field bleachers. The long ball, Downes' fifth of the year, also scored Howard.
North Carolina (22-16, 9-10) tied the score in the sixth inning. Skye Bolt drew a leadoff walk and moved to third with one out on a Landon Lassiter double. Parks Jordan grounded out to score Bolt, and a wild pitch allowed Lassiter to scamper home.
Virginia promptly responded in its half of the sixth. Howard ripped the first pitch to center for a single and advanced to third on a hit-and-run single from La Prise. Downes then hit a sacrifice fly to center to score Howard.
Carolina threatened in the eighth inning as Wood Myers hit a leadoff single and moved to second on a Bolt sacrifice. Kirby struck out Tom Zengel before Mayberry came on in relief to strike out Lassiter for the final out of the inning.
The second game of the series is set for 1 p.m. Saturday, while the series finale will be played at 1 p.m. Sunday. The Saturday contest will be televised by the ACC's Regional Sports Networks, including CSN Mid-Atlantic in the Charlottesville area.