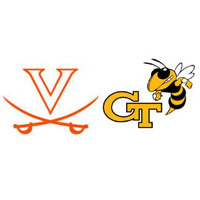 VIRGINIA CAVALIERS (38-9, 18-6 ACC)
Probable Starting Rotation
Fri. – So. LHP Nathan Kirby (8-1, 1.62 ERA)
Sat. – So. RHP Josh Sborz (4-3, 3.25 ERA)
Sun. – So. LHP Brandon Waddell (6-2, 2.90 ERA)
GEORGIA TECH YELLOW JACKETS (29-20, 14-13 ACC)
Probable Starting Rotation
Fri. – Jr. RHP Josh Heddinger (3-2, 3.70 ERA)
Sat. – R-Jr. LHP Devin Stanton (4-3, 2.38 ERA)
Sun. – Fr. LHP Ben Parr (4-2, 2.86 ERA)
The top-ranked UVa. baseball team entertains Georgia Tech Friday through Sunday (May 9-11) in a three-game ACC series at Davenport Field. The series opens at 6 p.m. Friday and continues with games at 4 p.m. Saturday and noon Sunday. Please note the game time change for Sunday from the original schedule.
Broadcast Information
A live video broadcast will be available for the Friday and Saturday games through a Cavaliers Live subscription on VirginiaSports.com. An audio broadcast will be available on Sunday on VirginiaSports.com; this game originally was scheduled for a video broadcast but will be audio only because of the NCAA lacrosse games on Sunday.
WINA 1070-AM and WINA.com will carry the live radio broadcast of all three games, while SiriusXM Satellite Radio also will air all three games on Channel 91.
The Saturday game also will air across several stations along the Virginia Sports Radio Network: 1340-AM (Petersburg), 97.9 FM (Lynchburg), 94.3 FM (Staunton) and 1370 AM (Martinsville).
Live statistics (GameTracker) also will be located on VirginiaSports.com. The video, audio and live stats also can be accessed through the Virginia Sports app, which is available through iTunes.
Parking Information
There is a $5 cash parking charge on Sunday for the University Hall, John Paul Jones Arena, and McCue Center lots because of the NCAA men's and women's lacrosse games held that afternoon at Klöckner Stadium. This parking charge also applies to baseball fans attending the game against Georgia Tech.
Free parking will be available on Friday, Saturday and Sunday at the Emmet/Ivy Garage. Free parking also is available Friday and Saturday in the University Hall, JPJ and McCue Center lots.
Text Alerts
Fans may text UVABASE to 79516 to subscribe to alerts about Virginia baseball schedule changes and game updates because of inclement weather. Standard text message rates for your individual mobile plan apply. To cancel enrollment, text STOP to 79516.
Tickets
Reserved bleacher seats: $10 (general public), $6 (UVa faculty/staff – limit two with valid university ID)
General Admission tickets: $8 (adults), $6 (youth -18 and under, seniors – 60 and over, and UVa faculty/staff – limit two with valid university ID)
Groups (20+): $6 each (Reserved bleacher seats), $5 each (General Admission)
Sunday Family Packages: $44 (includes four GA tickets and four concession vouchers, each valid for $8 worth of concession items)
Promotions
The final Virginia trading card set will be handed out to the first 1500 fans at the game Friday. Following the game Sunday there will be an autograph session with the team as well as running the bases for the kids.
Virginia-Georgia Tech Series
Georgia Tech holds a 68-46-2 series edge over Virginia, although UVa is 20-13-1 against the Yellow Jackets since the current coaching staff took over in 2004. Virginia has won three of its last four series against Georgia Tech, although the Yellow Jackets won two of three last year in Atlanta; both wins were by one run.
UVa then defeated Georgia Tech, 8-2, in the 2013 ACC Tournament. Recent games have been extremely tight – 25 of the 34 games since 2004 have been decided by three runs or fewer (14 by one run or a tie).
Four to Be Honored Sunday in Senior Day Ceremonies
Virginia will honor three players and manager Taylor Myers at 11:40 a.m. Sunday in Senior Day ceremonies. Artie Lewicki, Whit Mayberry, Austin Young and Myers will be feted before the final game of the series.
Virginia to Honor Womack Saturday
Virginia will honor former head coach Dennis Womack in ceremonies prior to the game Saturday. Womack also will throw out the first pitch Saturday. Womack retired from UVa at the end of April after 36 years of service; he most recently served as the Assistant AD for Facilities.
He won 594 games while serving as head coach from 1981-2003. Under Womack, UVa won the 1996 ACC Championship and twice participated in the NCAA Tournament. He was named the 1985 ACC Coach of the Year.
Virginia in the Latest National Rankings
Baseball America, Perfect Game, USA Today Coaches – 1
Collegiate Baseball, NCBWA – 2
Noting Georgia Tech
Georgia Tech ranks third in the ACC in batting at .281. Daniel Spingola leads the team at .327, while Matt Gonzalez (.325) and Thomas Smith (.308) also top the .300 mark.
The Yellow Jackets' pitching staff owns a 3.30 ERA, which ranks eighth among ACC team. Georgia Tech also is one of the ACC's best fielding teams, standing fourth in the league with a .970 fielding percentage.
Up Next
UVa takes on VCU on Tuesday (May 13) in its last regular-season home game before finishing the ACC and regular-season schedules May 15-17 at Wake Forest.