Lynchburg Hillcats blanked for second straight night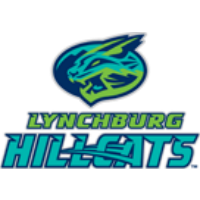 Ronnie Gideon reached base four times and drove in three runs to lead the Carolina Mudcats to a 7-0 shutout win over the Lynchburg Hillcats on Tuesday.
Lynchburg (24-24) drops to the .500 plateau for the first time since May 11, as the Mudcats (26-25) held them to just three hits in the game.
Carolina seized the early lead on a trio of first inning doubles. Keston Hiura laced a one out double down the right field line, and Tucker Newhouse followed with a two-bagger to the left-center gap to make it 1-0. Two batters later Gideon spit the left-center gap as well to make it a 2-0 Carolina lead.
The Mudcats would tack on a run in the third inning, as Ryan Aguilar led off the frame with a single, and came in to score on a double play ball off the bat to Dallas Carroll to widen the margin to 3-0.
The visitors added a run in the third, again via the double. With one out, Weston Wilson drove a ball to the right-center gap, and Gideon followed with his second RBI double of the game to increase the lead to 4-0.
Sam Hentges (Loss.3-4) got the start for Lynchburg, and lasted 4.1 innings, giving up six runs, five earned, on seven hits, allowing three walks and striking out four.
Braden Webb (Win, 3-3) was excellent for the Mudcats, tossing six scoreless innings, allowing just two hits and a walk, while racking up a season-high nine strikeouts.
Leading 6-0 in the seventh, Gideon would cap off his night, and the Mudcats offensive attack, by launching a solo home run to left field off of Anderson Polanco.
It was the only hit Polanco would allow in 2.2 innings in relief, as he punched out six in relief. Ben Krauth and Dalbert Siri each recorded scoreless innings for the Hillcats.
The teams are back in action at 6:30 p.m. on Wednesday night for game two of the three-game set. Right-hander Felix Tati (1-1, 2.12) is scheduled to start for Lynchburg, and will face off with lefty Cameron Roegner (6-1, 0.68) of the Mudcats at City Stadium.
Max Gun and Matt Present will be on the air at 6:20 p.m. with the pre-game show on TuneIn Radio and the Radio434 App.
It's Winning Wednesday at the ballpark, and all fans in attendance will receive a free ticket to the Hillcats game on Wednesday, July 11 against the Potomac Nationals.
For tickets and more information visit Lynchburg-hillcats.com, the City Stadium box office, or call 434-528-1144.
Comments