Sports
ACC Power Rankings, Week 3: Lots going on, but will it impact the bottom line?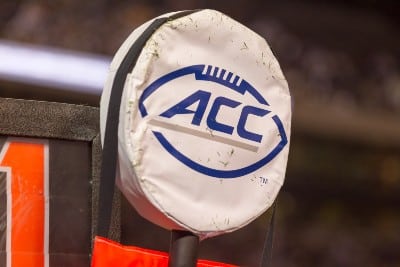 Miami falters in College Station against Texas A&M, NC State takes care of business, while Virginia and Wake Forest avoid upsets. The ACC Power Rankings hold steady.
The Hurricanes had their opportunities to get a huge statement win on the road against the Aggies, but poor red-zone offense and some shaky late-game coaching strategy doomed Miami in a 17-9 loss.
Meanwhile in another Power 5 matchup, NC State completely grounded a powerful Texas Tech offense in a 27-14 win in Raleigh. The Wolfpack have rebounded nicely since their opening week escape against East Carolina.
Virginia and Wake Forest escaped with wins over Old Dominion and Liberty. The rest of the ACC slate on Saturday went as expected, which resulted in slight change in this week's rankings.
ACC Atlantic
Clemson (3-0, 1-0 ACC) Clemson, as expected, defeated Louisiana Tech, 48-20. It was far from a clean game for the Tigers, and the final score was a bit deceiving. Now, a two-game stretch against Wake Forest and NC State will certainly define Clemson's season.
NC State (3-0, 0-0 ACC) A solid defensive effort against Texas Tech, but the offense needs some fine-tuning. A game against Connecticut next week will give the Wolfpack some extra practice time, before a road trip to Clemson.
Wake Forest (3-0, 0-0 ACC) The Demon Deacons were big favorites against Liberty. Wake survived being burned by the Flames after stopping a game-winning two-point conversion in the final two minutes. Quarterback Sam Hartman was not as efficient as he was against Vanderbilt. A much better performance from Hartman will be needed against Clemson.
Syracuse (3-0, 1-0 ACC) Syracuse remains undefeated with an impressive win in the dome against a solid Purdue team. Quarterback Garrett Shrader continues to shine, both on the ground and through the air. Syracuse welcomes Virginia next week.
FSU (3-0, 1-0 ACC) The Seminoles would have gotten the No.4 nod after a big road win at Louisville, except the win came at a price. FSU quarterback Jordan Travis was hurt, as was the Seminoles' top pass rusher, Jared Verse. Depending on those injuries, FSU could be on shaky ground. It won't matter next week as they welcome Boston College to Tallahassee.
Louisville (1-2, 0-2 ACC) The Cardinals had their chances against FSU Friday night. The Louisville defense struggled and could not keep FSU from finding the endzone in the 35-31 loss. UL quarterback Malik Cunningham had a strong game on the ground, but threw a fatal interception on the game's last drive.
Boston College (1-2, 0-1 ACC) BC picked up win number one of the season in drubbing Maine 38-17. Eagle quarterback Phil Jurkovec passed for just over 300 yards. But beating Maine won't get the Eagles out of the Atlantic basement.
ACC Coastal
Pittsburgh (2-1, 0-0 ACC) It was far from perfect, but Pitt got a win on the road with their third-string quarterback against Western Michigan. The good news for the Panthers is with upcoming games against Rhode Island and Georgia Tech, they have time to get healthy again.
Miami (2-1, 0-0 ACC) The Hurricanes had their chances against A&M, but time after time failed. The Hurricane offensive line looks strong, and the defense played well. The major question is, just how good is Texas A&M? The Hurricanes have a game against Middle Tennessee next week.
Duke (3-0, 0-0 ACC) The Blue Devils pounded North Carolina A&T 49-20, as expected. It's Duke's first 3-0 start since 2018. How about this matchup next for Duke, traveling to unbeaten Kansas (3-0)? Duke quarterback Riley Leonard continues to impress.
UNC (3-0, 0-0 ACC) The Tar Heels had the weekend off. UNC can turn some heads next game as they host Notre Dame.
Virginia (2-1, 0-0 ACC) Virginia escaped losing to in-state foe Old Dominion on a last-second field goal. The positive for the Cavaliers was an effective defensive effort. The passing game looked better, but three turnovers almost proved fatal for UVA.
Virginia Tech (2-1, 1-0 ACC) Despite winning 27-7 over Wofford, the Hokies were far from perfect. Encouraging for Tech was quarterback Grant Wells threw for over 300 yards.
Georgia Tech (1-2, 0-1 ACC) The Yellow Jackets were just horrible in a 42-0 loss to Ole Miss Saturday. GT surrendered over 500 yards on defense and the offense looked dreadful. The Geoff Collins era in Atlanta may be over before the Jackets' next game at Central Florida on Saturday.