Sports
Report Card: What's up with UVA wide receiver Dontayvion Wicks and 'the yips'?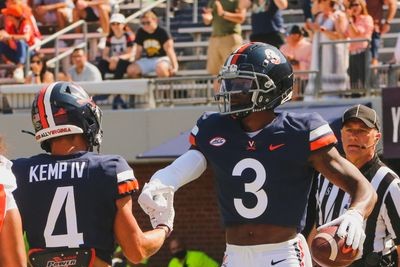 UVA wideout Dontayvion Wicks had 1,203 receiving yards last season, and it seemed that each week, he'd add another highlight-reel catch to the resume.
Wicks is in the middle of an extended period of what golfers would call "the yips" in 2022.
Pro Football Focus debited him with three drops in Virginia's 16-14 win over ODU on Saturday, raising his total to five for the season – matching his number for all of 2021.
Worse yet, QB Brennan Armstrong has gone to Wicks as his favorite target, with 36 pass attempts going to Wicks, an average of 12 a game.
Armstrong's numbers on those passes: 12-of-36, 155 yards, 0 TDs, 1 INT, 36.2 NFL passer rating.
Last season, Armstrong was 57-of-93 for the aforementioned 1,203 yards, nine TDs, two INTs and a 128.5 NFL rating.
So, in addition to "the yips," Wicks seems to be having issues getting open, and then, BA is having issues going through his progressions, and just chucking the ball at Wicks, thinking he'll make a play that he's largely not been making.
O line
Left tackle Logan Taylor, a sophomore who was a four-star prep recruit, had the highest PFF grade for a UVA lineman this season, an 80.5, on Saturday.
Taylor logged 88 snaps, and gave up one QB hurry on 45 pass dropbacks.
Right guard Derek Devine graded out at a season-best 71.5 on his 88 snaps, with a clean sheet (no pressures) on 45 pass dropbacks, his one bit of red ink being a penalty.
The lowest grade for the group was given to senior right tackle Jonathan Leech, who graded out at 53.4 on his 85 snaps, allowing six QB hurries on 44 pass snaps.
McKale Boley, a true freshman who started UVA's first two games at left tackle, only got three snaps on Saturday, all at right tackle.
KT
Keytaon Thompson, the sixth-year senior, had another solid day in what has been a solid season for the wide receiver.
Thompson had nine catches on 12 targets (one drop) for 118 yards, and graded at 73.5.
On the season, KT has 18 catches on 24 targets (one drop) for 235 yards, and Armstrong has a 105.4 NFL passer rating on those throws.
Defense
Four defenders graded out at 70 or above on Saturday, led by middle linebacker Nick Jackson, at a season-best 80.3, for a day that saw him record eight tackles and a QB hit on 71 snaps.
Edge linebacker Chico Bennett Jr. graded at 71.9 for a day that saw him register three tackles, including a sack, and a QB hurry on his 56 snaps.
Defensive end Kam Butler graded at 70.9 on his 58 snaps, with a tackle, a sack and a QB hurry.
Safety Coen King graded 70.6 on his 44 snaps, with four tackles and no targets on 20 coverage snaps.