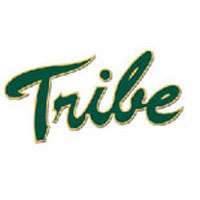 A Terry Tarpey steal and fastbreak dunk put the William and Mary men's basketball team on top with 40 seconds remaining in overtime, but UNCW's C.J. Bryce answered on a lay-up with 18 ticks left, and the Seahawks downed the Tribe, 97-94, in a high-octane thriller on Saturday afternoon at Trask Coliseum.
The Tribe (12-5, 4-2 CAA) rallied from a three-point deficit with less than a minute and a half remaining to force OT. The Green and Gold had a chance to win at the end of regulation, but David Cohn's attempt at the buzzer was strong. Both teams put on a display offensively in the second half and overtime as UNCW (12-5, 4-2 CAA) shot 63.6 percent (21-of-33) over the stretch and W&M connected at a 58.3-percent (21-of-36) clip.
Senior Sean Sheldon enjoyed a career day scoring 20 points on 9-of-11 shooting, while junior Omar Prewitt added 20 points. In total, all five Tribe starters scored in double figures. Cohn turned in a 14-point, 11-assist double-double and had only one turnover in 37 minutes to go with four steals. Senior Terry Tarpey had another sat-stuffing line with 14 points, seven rebounds, four assists, two blocked shots and three steals, while sophomore Greg Malinowskihit 4-of-6 from 3-point range to finish with 12 points. The Tribe was forced to play without the services of its second-leading scorer and one of the CAA's top 3-point shooters in junior Daniel Dixon, who suffered an injury at Charleston on Thursday night.
W&M returns home on Thursday, Jan. 21, to face Elon at 7 p.m.The game will be broadcast online for FREE in HD via Tribe Athletics TV. Tribe fans can also catch the men's basketball action over the Tribe Radio Network with Jay Colley and Charlie Woollum on the call. The Tide 92.3 FM and 107.9 Bach FM are the flagship stations of the Tribe Radio Network and the audio is also available over the Web at TribeAthletics.com.
Monday night, Jan. 18, will be the debut edition of The Chesapeake Bank Tony Shaver Show from Paul's Deli, 761 Scotland Street in Williamsburg. The weekly show begins on-site at6:30 p.m. with the live interview airing from 7-7:30 p.m. Longtime Tribe play-by-play announcer Jay Colley will host the broadcast. The Show can be heard over the Tribe Radio Network and online at TribeAthletics.com.