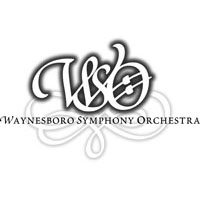 The Waynesboro Symphony Orchestra, under the baton of Music Director Dr. Peter Wilson, continues its 2013-2014 season on Saturday April 26th and Sunday April 27th.
Titled "Viva Italia," this concert features the works of Verdi, Rota and Mandelssdohn; Verdi's Overture to "La Forza del Destino,: Rota's Concertante for Contrabass and Orchestra with soloist Aaron Clay and Mendelsshon's Symphony No.4, "Italian.  Featured double bass soloist, Aaron Clay,  is Principal Bass of both the Fairfax and Alexandria Symphonies in Northern Virginia
Concert dates are: Saturday, April 26th, 7:30 PM   at Staunton's First Presbyterian Church and Sunday, April 27th, 3:00 PM  at Waynesboro's First Presbyterian  Church. No tickets are required for these FREE concerts, however, contributions are gratefully accepted.  For more details, visit www.WSOMusic.org
Additional information
Aaron Clay distinguishes himself regularly as a uniquely versatile double bassist. He commands great respect as a performer in both the classical and jazz worlds of bass playing, but it was The Washington Post that observed, "What sets [Clay] apart is elegant bowing . . . . His melodic lines have a cello-like glow and flexibility . . . ."
A native of Fairmont, West Virginia, Clay began his musical training at the age of 10 when he taught himself to play jazz on the electric bass. He later pursued classical training on the upright double bass and, upon graduating from Fairmont Senior High School, attended West Virginia Wesleyan College, where he studied with Richard Manspeaker. In 1989, he was selected to join the United States Navy Band in Washington, D.C., where he served one enlistment. In 1993, he auditioned successfully for "The President's Own" United States Marine Band, where he currently holds the rank of Master Sergeant and serves as Assistant Principal Bass.
Clay makes regular appearances at The White House performing in virtually every type of musical ensemble, to include the Marine Orchestra, string ensembles, and jazz/pop combos. He also travels frequently with the Marine Band throughout the United States and abroad. In addition to writing works for violin and double bass duo, Clay is developing a reputation as a composer of works for larger ensembles.
Clay serves as Principal Bassist of the Fairfax Symphony Orchestra as well as the Alexandria Symphony Orchestra and has performed in such jazz and pop groups as The Kenny Rittenhouse Quartet, The Peter Fraize Quartet, and First Light. Clay is always in great demand as a freelance musician and has appeared with such legendary performers as Aretha Franklin and Joe Williams.
Music Director, Dr. Peter Wilson is an engaging and multifaceted American violinist and conductor whose musicianship has been noted as "first-class" by The Washington Post. He currently serves as Music Director of the Waynesboro Symphony Orchestra, was recently appointed Music Director of the Richmond Philharmonic and has conducted the National Symphony Orchestra as well as the National Gallery Orchestra. Highly respected throughout our Nation's Capital, he has served as a violinist of The White House for two decades and is an active chamber musician, concertmaster, recording artist, and performance clinician throughout the United States.