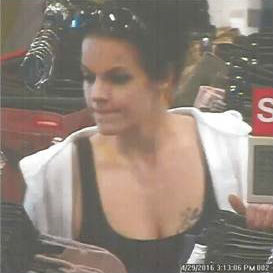 The Waynesboro Police Department is requesting assistance from the community to help identify an individual involved in a theft of merchandise from a local business.
The suspect described as a white female possibly in her late teens to early 20s entered Kohl's, 841 Town Center Drive, on April 29 at approximately 4:30 p.m. and put items in a shopping buggy including a brassiere and pair of kids's shoes valued at nearly $45.
She then went into a dressing room where she removed the bra and shoes from their packaging and concealed them before leaving the store.
The suspect then left with a male in an 1980s style Buick. The suspect has a distinctive tattoo above her left breast. She is also a suspect in thefts from Kohl's in Harrisonburg and Charlottesville.
Call the Waynesboro PD
If anyone has information as to the identity of this individual, please call the Waynesboro Police Department at(540) 942-6675 to speak with Sergeant David Shaw or call Central Shenandoah Crime Stoppers at (800) 322-2017. Anyone who gives information that leads to an arrest of the offender can receive a cash reward.