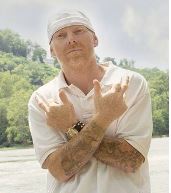 Update: Monday, 3:49 p.m. The Waynesboro Police Department is no longer searching for Charles Richard Ramsey.  Ramsey voluntarily met with Waynesboro PD detectives for an interview at the Rockbridge County Sheriff's Office earlier this afternoon.
The investigation is ongoing.  Anyone with information in this case is asked to call the Waynesboro Police Department at (540) 942-6675 or Central Shenandoah Crime Stoppers at 1(800) 322-2017.  Information given to Crime Stoppers may be given anonymously.
Callers with information that lead to an arrest in this case are eligible for a cash reward of up to $1000.
Original Story: The Waynesboro Police Department is investigating a shooting that happened late Sunday night near Hopeman West Apartments, 100 Guilford Lane, when a tow truck driver attempted to repossess a vehicle.  The Department is currently searching for Charles Richard Ramsey, 37 years old of Waynesboro, who is the owner of the vehicle, in connection with the shooting.
At approximately 11:02 p.m. Sunday, officers responded to the area near Hopeman West Apartments to speak with a 29-year-old Shenandoah County man who claims he was shot at as he attempted to locate a vehicle for repossession.  The complainant told officers that he was looking for a 2014 Dodge Avenger at the apartment complex where Ramsey lives.
He saw the vehicle leave the complex parking lot just before he arrived.  The complainant followed the vehicle out of the complex and onto Guilford Lane.  The complainant stated he heard gunshots as he was close to the Dodge Avenger.  The suspect vehicle then fled the area.  Officers recovered evidence at the scene and requested a regional broadcast to area law enforcement agencies to "be on the look-out" for the vehicle and Ramsey.
A deputy with the Augusta County Sheriff's Office located the vehicle near Stuarts Draft at approximately 7:30 a.m. this morning.
Presently, Ramsey, who may be armed, is a person of interest in the case and no charges have been filed.
Ramsey is a described as:
37 year old white male
6'1" & 195 lbs.
Red hair with blue eyes