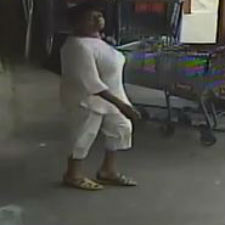 The Waynesboro Police Department is requesting assistance from the community to help identify an individual involved in theft of meat from a local business.
On March 12 at approximately 3:10 p.m., the suspect described as an African-American female possibly in her late 20s to early 30s dressed all in white entered Save-A-Lot, 1301 West Broad Street, with thievery on her mind.  She loaded up a shopping cart with nearly $100.00 worth of merchandise.  The items she stole were five packages of steaks, a six pack of beer and few bananas short of a bunch.
The suspect was in the store for approximately twenty minutes.  She loaded all of the items in a large purse that she carried with her and left the store.
If anyone has information as to the identity of this individual, please call the Waynesboro Police Department at (540) 942-6675 to speak with Officer Patrick Scott or call Central Shenandoah Crime Stoppers at (800) 322-2017.  Anyone who gives information that leads to an arrest of the offender can receive a cash reward.