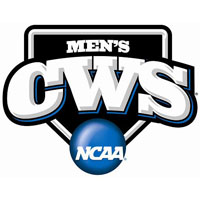 UVA starter Brandon Waddell gave up two hits in seven-plus scoreless innings, and Josh Sborz closed out Florida by getting out of a first-and-third, no-out jam in the eighth, as the Cavs upset the Gators, 1-0, on Monday in the 2015 College World Series.
The win propels the 'Hoos (2-0 in the CWS) to the final of their four-team pool in Omaha on Friday night. Florida (1-1) plays Miami (1-1) on Wednesday, with the winner advancing to play Virginia.
Waddell (4-5) was masterful against the powerful Gators lineup, which had scored 15 runs in their College World Series-opening win over Miami on Saturday, and had scored double digits in four of their six wins in the 2015 NCAA Tournament entering play on Monday.
Waddell worked out of a two-on, two-out jam in the first, and then cruised into the eighth, when he walked Dalton Guthrie on a 3-2 pitch to lead off the inning, then gave up a single to Ryan Larson on a 2-2 pitch to put runners on the corners with nobody out, and the top of the order due up next.
UVA coach Brian O'Connor lifted Waddell for Sborz, who got leadoff man Harrison Bader to hit into an odd fielders choice. Bader hit a liner into the box, which Sborz fielded, but in the process he lost his glove, and double- and triple-pumped before throwing to second to force Larson, who had hesitated on the liner thinking Sborz had caught it.
Then Sborz got Richie Martin to line out to second for the second out, and Josh Tobias to ground out to second for the final out of the eighth.
Sborz retired the heart of the Gators' order – J.J. Schwarz, Buddy Reed and Peter Alonso – on ground balls to close out things in the ninth.
UVA got its lone run of the night in the sixth. Matt Thaiss singled with one out off Florida starter A.J. Puk (9-4). Kenny Towns followed with a sharp single to left, and Pavin Smith, up next, reached on a swinging bunt down the third base line.
Taylor Lewis relieved Puk, and on his first pitch to Robbie Coman got Coman to line out to center, but the ball was deep enough to allow Thaiss to score from third without a throw.
Lewis walked Joe McCarthy to re-load the bases, and then got Kevin Doherty to fly out to short right to end that threat.
But it turned out that the one run was all Virginia would need.