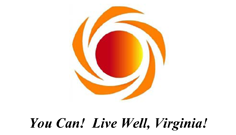 VPAS Chronic Disease Self-Management Education (CDSME) has exceeded the current grant year goal of having 258 workshop completers with a current total of 272 even though the grant year does not end until Aug. 31. A workshop completer is defined as a participant who attends at least four of six workshop sessions.
Thirty workshops have been held during the current grant year with 122 completers at Woodrow Wilson Rehabilitation Center, and 150 in community workshops including 14 in Bath, Highland (BH), 23 in Buena Vista, Lexington (BLR), 42 in Staunton, Augusta, Waynesboro (SAW), and 71 Harrisonburg, Rockingham (HR). Workshops will continue to be offered for the remainder of the grant year.
Thank you to all the dedicated Workshop Leaders and CDSME Champions who have made this program successful!
More online at http://ValleyCDSME.com.