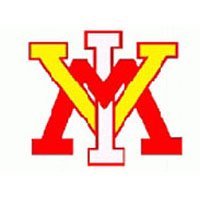 Stan Okoye had 23 points and nine rebounds, helping the VMI Keydets earn their first road win of the season in downing the Radford Highlanders, 65-60, in Big South basketball action Thursday night at the Dedmon Center in Radford, Va.
Okoye posted 14 of his 23 points in the second half, which saw VMI (11-10, 6-5 Big South) launch a 15-1 run on a Rodney Glasgow jumper with 15:28 remaining. That spurt turned a 35-32 Highlander (4-19, 1-10) lead into a 47-36 Keydet advantage, and VMI would not trail again.
Before winning Thursday, VMI had been the lone Division I team to be perfect at home, but winless on the road. In prevailing, the Keydets posted their lowest point total in a victory since Nov. 18, 2010, a 65-55 win over Jacksonville State. The teams combined for 42 turnovers, 22 of which were by Radford, as VMI improved to 4-0 when forcing more than 20 turnovers this season.
In addition to Okoye, D.J. Covington had 10 points for VMI, all in the first half. The Keydets attempted just 14 three-pointers, their lowest total since Feb. 18, 2006, while shooting 43.8% (21 for 48) for the game. In the second half, however, the visitors hit 11 of 21 field goals for a 52.4% effort.
The game's other key stat saw Radford shoot a dismal 16 of 30 (53.3%) from the foul line, while the Keydets hit two-thirds of their attempts from the charity striple, going 20 for 30.