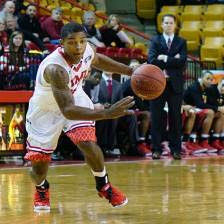 VMI junior guard Q.J. Peterson was named SoCon Player of the Week for games played November 24 through November 30.
In two games last week, Peterson averaged 22.5 points and 7.5 rebounds along with 4.0 assists. In VMI's 76-61 win over Presbyterian College November 24, Peterson scored 25 points and grabbed eight rebounds while dishing out five assists. In a road setback at Campbell last night, Peterson scored 20 points and had seven rebounds and extended his 20+ point scoring streak to four games.
Over the last four contests, Peterson has averaged 23.8 points and 5.8 rebounds and has connected on 13 of 16 free throws for 81.3%.
It is the second time that Peterson has earned SoCon Player of the Week honors in his career. The Hedgesville, W.Va. native was honored December 9, 2014 when he scored 28 points at Samford and 32 points at Mercer.
Peterson currently leads the Southern Conference in scoring averaging 20.6 points per game.
VMI (2-3) resumes action Wednesday night against Central Penn at Cameron Hall.